Honda CR-V: Automatic Transmission
Special Tools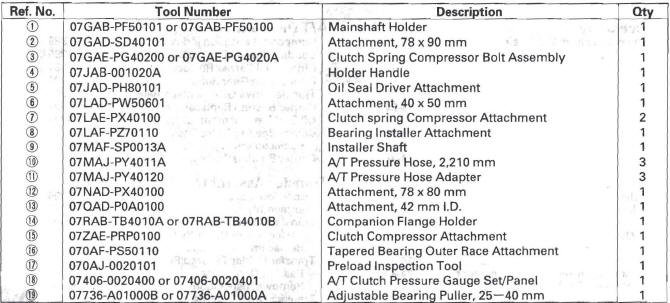 07HAE-PL50101 may also be used to substitute one of 07LAE-PX40100.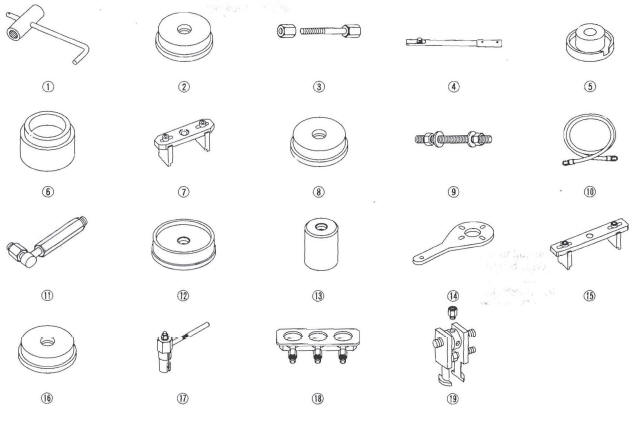 Mainshaft Holder
Attachment, 78 x 90 mm
Clutch Spring Compressor Bolt Assembly
Holder Handle
Oil Seal Driver Attachment
Attachment, 40 x 50 mm
Clutch spring Compressor Attachment
Bearing Installer Attachment
Installer Shaft
A/T Pressure Hose, 2,210 mm
A/T Pressure Hose Adapter
Attachment, 78 x 80 mm
Attachment, 42 mm I.D.
Companion Flange Holder
Clutch Compressor Attachment
Tapered Bearing Outer Race Attachment
Preload Inspection Tool
A/T Clutch Pressure Gauge Set/Panel
Adjustable Bearing Puller, 25-40 mm

07736-A01000B or 07736-A01000A must be used with commercially available 3/8 "-16 slide hammer.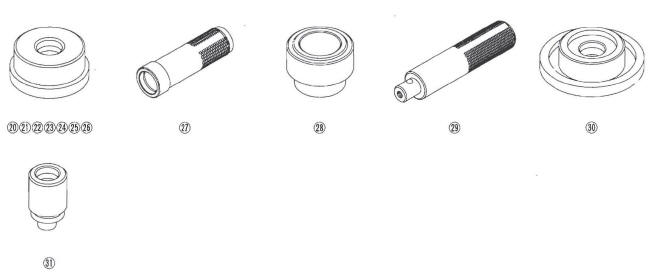 Attachment, 32 x 35 mm
Attachment, 42 x 47 mm
Attachment, 52 x 55 mm
Attachment, 62 x 68 mm
Attachment, 72 x 75 mm
Attachment, 22 x 24 mm
Attachment, 40 x 42 mm
Driver, 40 mm 1.0.
Attachment, 35 mm 1.0.
Driver
Oil Seal Driver Attachment
Oil Seal Driver Attachment
READ NEXT:
How to Check for DTCs with the Honda Diagnostic System (HDS) When the powertrain control module (PCM) senses an abnormality in the input or output system, the D indicator (A) in the gauge control modu
The automatic transmission is a combination of a 3-element torque converter and triple-shaft electronically controlled unit which provides 5 speeds forward and 1 reverse. The entire unit is position
SEE MORE:
A child who has outgrown a forwardfacing child seat should ride in a back seat and use a booster seat until the lap/shoulder belt fits them properly without the booster. Some states, Canadian provinces and territories also require children to use a booster seat until they reach a
NOTE: Before you troubleshoot, record all freeze data and any on-board snapshot, and review the general troubleshooting information. If a high voltage battery (24 V, etc.) is connected to the vehicle, this DTC can be stored. 1. Turn the ignition switch ON (II). 2. Clear the DTC with the HDS.
© 2016-2021 Copyright www.hcrv.net