Honda CR-V: Automatic Transmission
Special Tools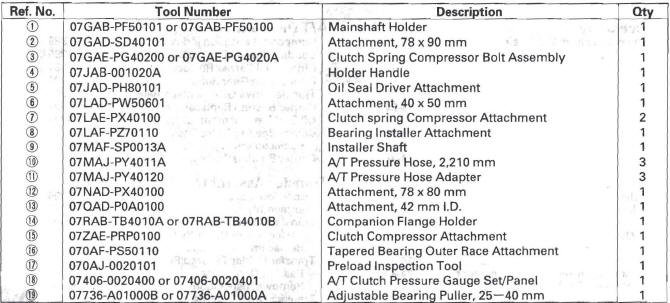 07HAE-PL50101 may also be used to substitute one of 07LAE-PX40100.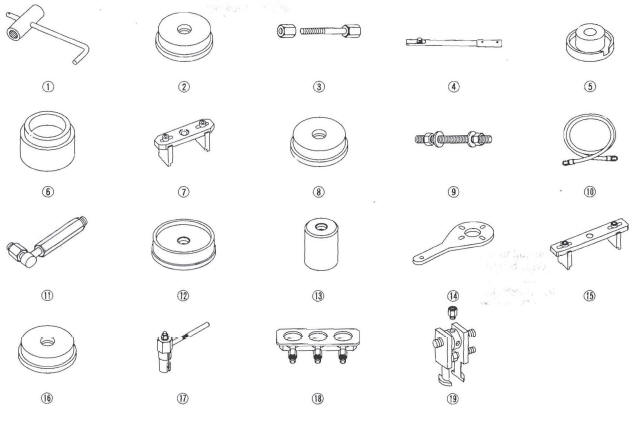 Mainshaft Holder
Attachment, 78 x 90 mm
Clutch Spring Compressor Bolt Assembly
Holder Handle
Oil Seal Driver Attachment
Attachment, 40 x 50 mm
Clutch spring Compressor Attachment
Bearing Installer Attachment
Installer Shaft
A/T Pressure Hose, 2,210 mm
A/T Pressure Hose Adapter
Attachment, 78 x 80 mm
Attachment, 42 mm I.D.
Companion Flange Holder
Clutch Compressor Attachment
Tapered Bearing Outer Race Attachment
Preload Inspection Tool
A/T Clutch Pressure Gauge Set/Panel
Adjustable Bearing Puller, 25-40 mm

07736-A01000B or 07736-A01000A must be used with commercially available 3/8 "-16 slide hammer.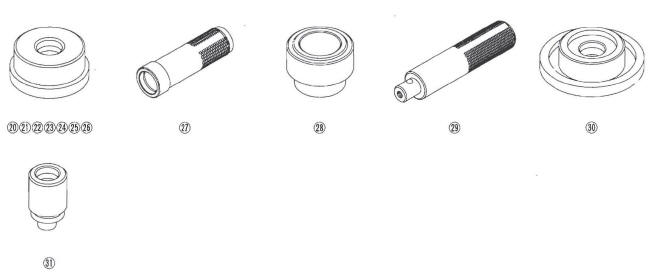 Attachment, 32 x 35 mm
Attachment, 42 x 47 mm
Attachment, 52 x 55 mm
Attachment, 62 x 68 mm
Attachment, 72 x 75 mm
Attachment, 22 x 24 mm
Attachment, 40 x 42 mm
Driver, 40 mm 1.0.
Attachment, 35 mm 1.0.
Driver
Oil Seal Driver Attachment
Oil Seal Driver Attachment
READ NEXT:
How to Check for DTCs with the Honda Diagnostic System (HDS) When the powertrain control module (PCM) senses an abnormality in the input or output system, the D indicator (A) in the gauge control modu
The automatic transmission is a combination of a 3-element torque converter and triple-shaft electronically controlled unit which provides 5 speeds forward and 1 reverse. The entire unit is position
SEE MORE:
1. Open the upper glove box. 2. Push the release button to release the USB adapter cable. 3. Connect the USB flash memory device to the USB connector correctly and securely. When the USB flash memory device is connected, the USB indicator is shown in the display.
1. Relieve fuel pressure. 2. Remove the engine cover. 3. Disconnect the connectors (A) from the injectors. 4. Remove the ground cable bolt (G101) (B). 5. Disconnect the quick-connect fitting (C). 6. Remove the fuel rail mounting nuts (D) from the fuel rail (E). 7. Remove the injector clip (F)
© 2016-2021 Copyright www.hcrv.net