Honda CR-V: Cylinder Head
Special Tools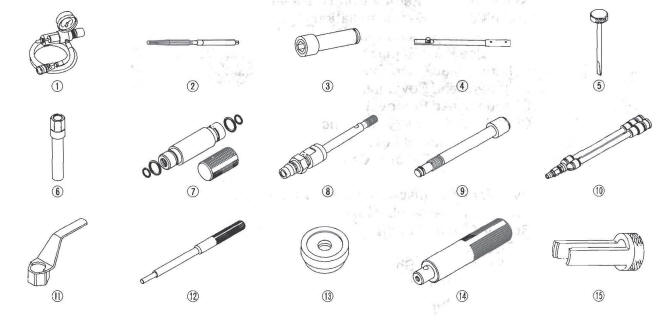 Air Pressure Regulator
Valve Guide Reamer, 5.5 mm
Socket, 19 mm
Holder Handle
Adjuster
Locknut Wrench
Stem Seal Driver
VTEC Air Adapter
VTEC Air Stopper
Air Joint Adapter
Crankshaft Pulley Holder
Valve Guide Driver, 5.5 mm
Attachment, 52 x 55 mm
Driver
Valve Spring Compressor Attachment
Component Location Index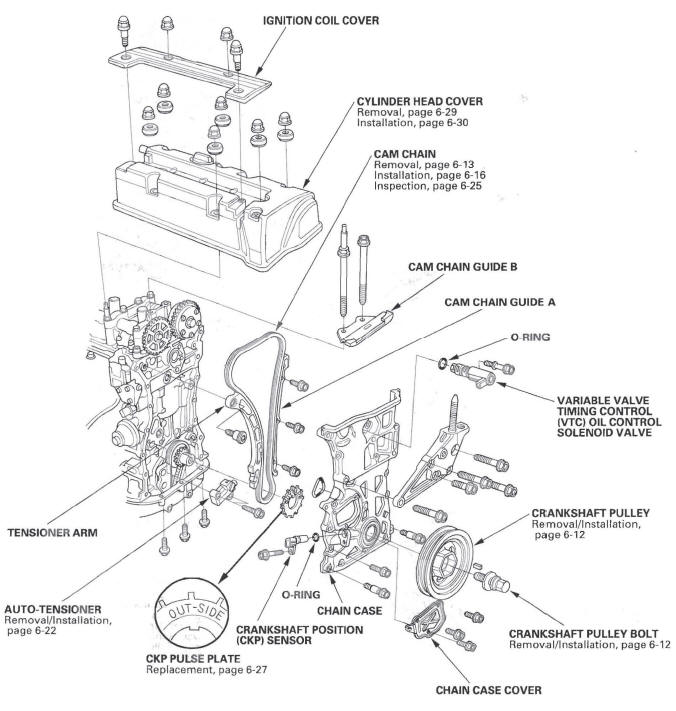 IGNITION COIL COVER

CYLINDER HEAD COVER

CAM CHAIN

CAM CHAIN GUIDE B

CAM CHAIN GUIDE A

O-RING

VARIABLE VALVE TIMING CONTROL (VTC) OIL CONTROL
SOLENOID VALVE

CRANKSHAFT PULLEY

CRANKSHAFT PULLEY BOLT

CHAIN CASE COVER

CHAIN CASE

CRANKSHAFT POSITION (CKP) SENSOR

AUTO-TENSIONER

TENSIONER ARM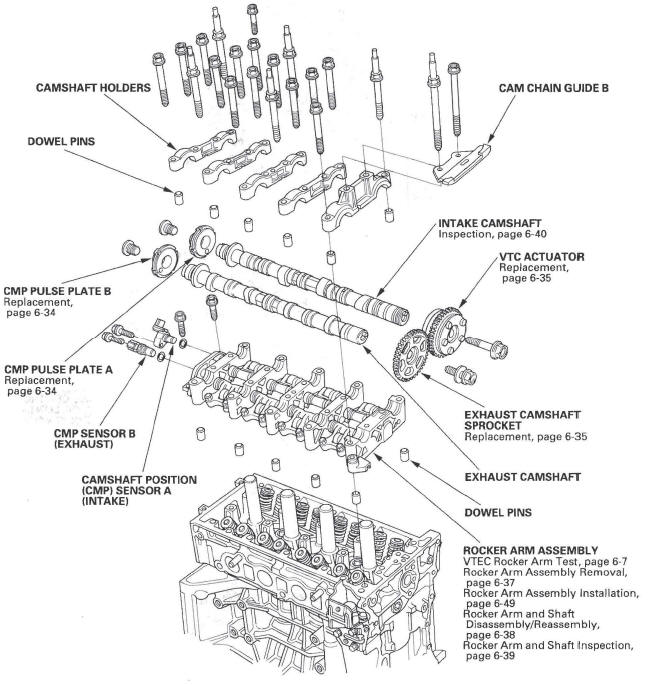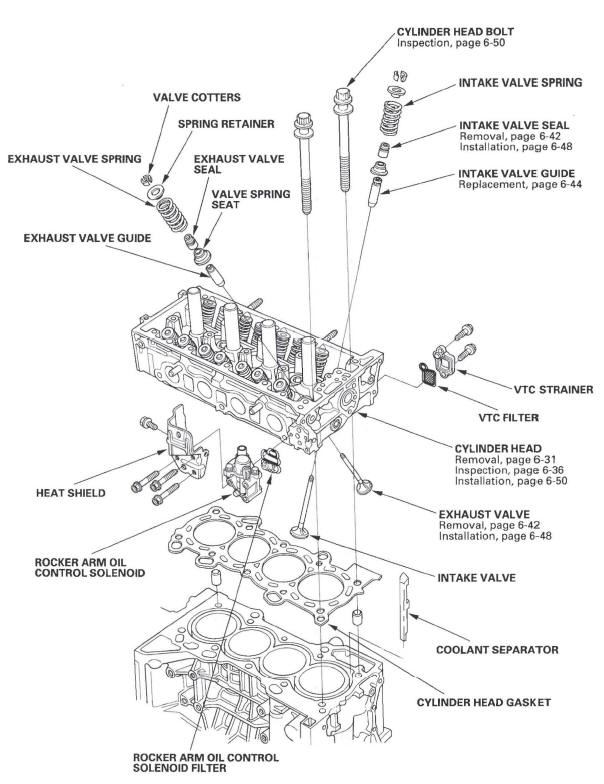 CYLINDER HEAD BOLT

INTAKE VALVE SPRING

INTAKE VALVE SEAL

INTAKE VALVE GUIDE

INTAKE VALVE

CYLINDER HEAD GASKET

ROCKER ARM OIL CONTROL
SOLENOID FILTER

ROCKER ARM OIL
CONTROL SOLENOID

HEAT SHIELD

EXHAUST VALVE GUIDE

EXHAUST VALVE SPRING

VALVE COTTERS

SPRING RETAINER

EXHAUST VALVE SEAL

VALVE SPRING SEAT
READ NEXT:
NOTE: After this inspection, you must reset the powertrain control module (PCM), otherwise the PCM will continue to stop the injectors from functioning. Select PCM reset using the Honda Diagnostic Sy
Special Tools Required Adjuster 07MAA-PR70110 Locknut wrench 07MAA-PR70120 NOTE: Adjust the valves only when the cylinder head temperature is less than 100 ºF (38 ºC). 1. Remove the cylinder hea
NOTE: Keep the cam chain away from magnetic fields. 1. Remove the front wheels. 2. Remove the splash shield (see step 21). 3. Remove the drive belt. 4. Remove the cylinder head cover. 5. Set the N
SEE MORE:
You can also select a file directly from a track list on the audio display. Press the AUDIO button to show the audio display, then touch the Track List icon. The track list menu appears on the display. To scroll through the display, touch the or icon on the side of the screen.
To see the current engine oil life, turn the ignition switch to the ON (II) position, then press and release the select/reset knob repeatedly until the engine oil life indicator appears. The remaining engine oil life is shown on the display according to this table: If the remai
© 2016-2021 Copyright www.hcrv.net