Honda CR-V: Steering
Special Tools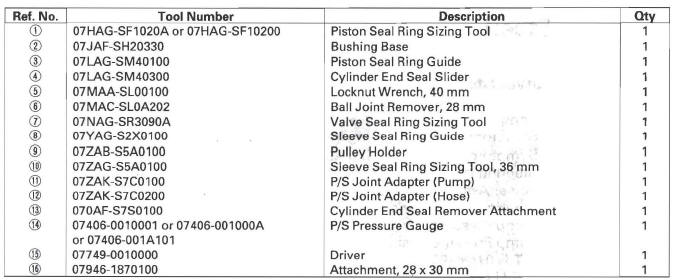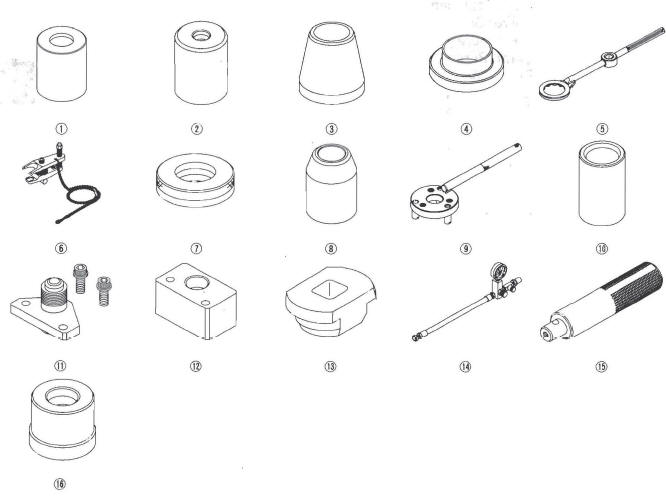 Piston Seal Ring Sizing Tool
Bushing Base
Piston Seal Ring Guide
Cylinder End Seal Slide
Locknut Wrench, 40 mm
Ball Joint Remover, 28 mm
Valve Seal Ring Sizing Tool
Sleeve Seal Ring Guide
Pulley Holder
Sleeve Seal Ring Sizing Tool, 36 mm
P/S Joint Adapter (pump)
P/S Joint Adapter (Hose)
Cylinder End Seal Remover Attachment
P/S Pressure Gauge
Driver
Attachment, 28 x 30 mm
Component Location Index
POWER STEERING FLUID RESERVOIR

Fluid Leakage Inspection
Fluid Replacement
Power Steering Hose, Line, and Pressure Switch Replacement

POWER STEERING PUMP

Drive Belt Inspection
Pressure Test with T/N 07406-0010001
Pressure Test with T/N 07406-001000A or 07406-001A101
Replacement
Overhaul

DRIVER'S AIRBAG
STEERING WHEEL

Removal
Disassembly/Reassembly
Installation

STEERING COLUMN

Removal and Installation
Steering Column/Tilt/Telescopic/Lock Lever Inspection
Steering Lock Replacement

POWER STEERING GEARBOX

Rack Guide Adjustment
Removal
Overhaul
Installation
Tie-rod Ball Joint Boot Replacement
Gearbox Mount Cushion Replacement
Symptom Troubleshooting Index
Find the symptom in the chart below, and do the related procedures in the order listed until you find the cause.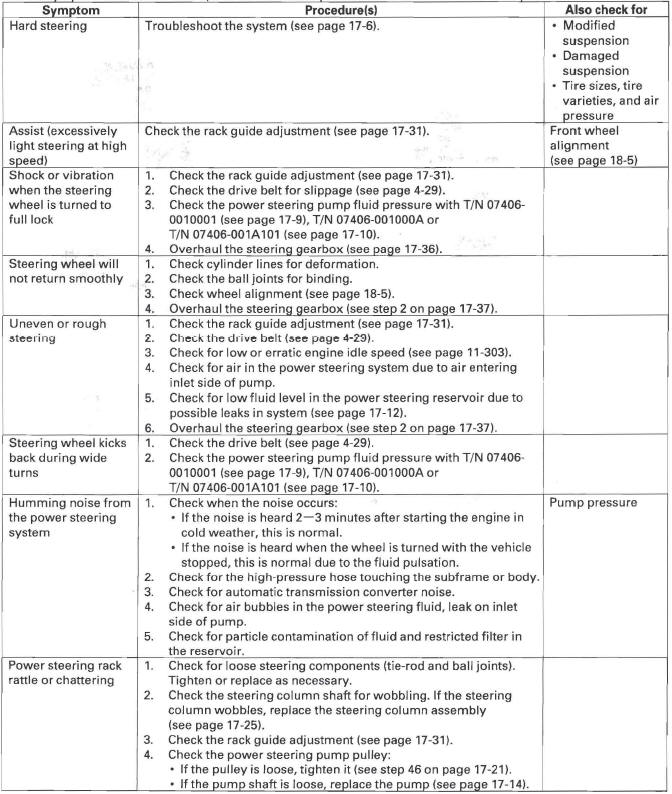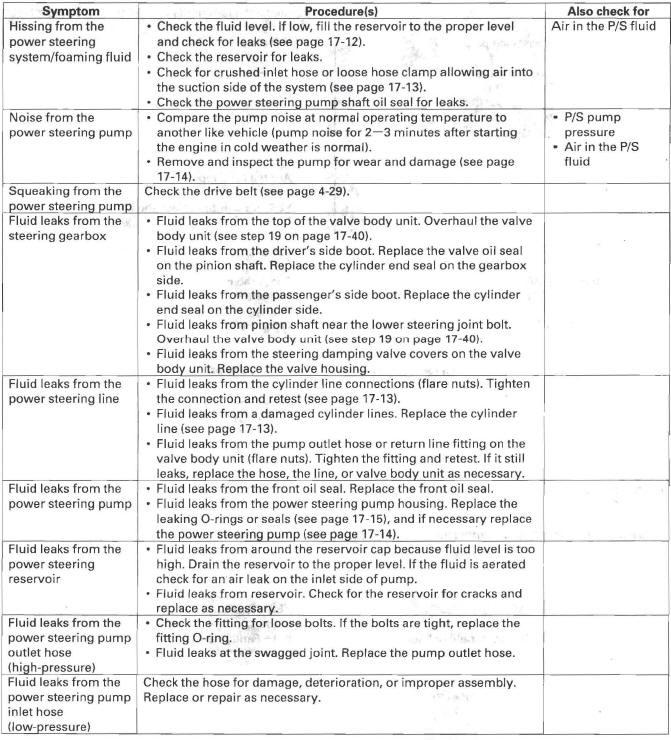 READ NEXT:
Hard Steering 1. Check the power assist. Is the initial turning load more than 34 N (3.5 kgf, 7.7 Ibf) ? YES-Go to step 2. NO-Power assist is OK. 2. Connect the P/S joint adapter (pump), P/S joint
Pump Pressure Test with T/N 07406-0010001 Special Tools Required P/S joint adapter (pump) 07ZAK-S7C0100 P/S joint adapter (hose) 07ZAK-S7C0200 P/S pressure gauge 07406-0010001 Check the fluid pre
Pump Replacement 1. Place a suitable container under the vehicle. 2. Drain the power steering fluid from the reservoir. 3. Remove the drive belt (A) from the pump pulley. 4. Cover the auto-tensione
SEE MORE:
The spotlights have a two-position switch. In the DOOR position, the lights come on when you open any door. In the OFF position, the lights do not come on. The spotlights (with the switch in the DOOR position) also come on when you unlock the door with the key or the remote transm
This allows you to move the shift lever out of Park if the normal method of pushing on the brake pedal and pressing the release button does not work. 1. Set the parking brake. 2. Remove the key from the ignition switch. 3. Put a cloth on the edge of the shift lock release slot cover.
© 2016-2023 Copyright www.hcrv.net