Honda CR-V: Replacing a Front Turn Signal Light Bulb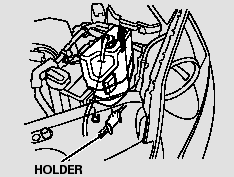 1. Open the hood.
To change the turn signal bulb on the driver's side, remove the engine coolant reserve tank by pulling it out of its holder.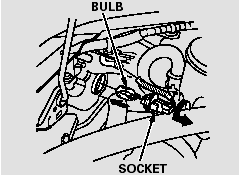 2. Remove the socket from the headlight assembly by turning it one-quarter turn counterclockwise.
3. Pull the bulb straight out of its socket. Push the new bulb straight into the socket until it bottoms.
4. Insert the socket back into the headlight assembly. Turn it clockwise to lock it in place.
5. Turn on the lights to make sure the new bulb is working.
6. (Driver's side)
Reinstall the coolant reserve tank.
READ NEXT:
1. Open the hood. To change the parking light/front side marker on the driver's side, remove the fuse box fromits stay by pulling out. 2. Remove the socket from the headlight assembly
1. Open the tailgate. Place a cloth on the edge of the cover to prevent scratches. Remove the covers by carefully prying on the edge with a small flat-tip screwdriver. 2. Use a Phillips-h
1. Open the tailgate. Unlatch the top of the cover by pulling back on it with your hands. 2. Place a cloth on the side edge of the cover to prevent scratches. Remove the cover by carefully
SEE MORE:
The best protection against carbon monoxide entry into the vehicle body is a properly maintained engine exhaust system. If you notice a change in the sound of the exhaust system; or if the exhaust fumes can be detected inside the vehicle; or when the underside or rear of the vehicle is damaged; hav
Certification Label As required by National Highway Traffic Safety Administration regulations, your vehicle has a certification label affixed to the driver's side door or pillar. This label contains the month and year of manufacture, Gross VehicleWeight Rating (GVWR), Gross AxleWeight Rating (GAWR)
© 2016-2023 Copyright www.hcrv.net