Honda CR-V: Reclining the Front Seats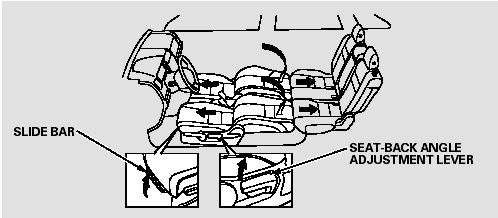 You can recline the seat-backs on the front seats so they are level with the rear seat cushions, making a large cushioned area. To do this:
EX-L and Canadian EX models
Only the passenger's side can be level as follows.
1. Adjust the rear seats as far back as possible.
2. Remove the front head restraints, and store them securely.
3. Adjust the front seats forward as far as possible. Pull up the seatback angle adjustment lever and pivot the seat-back backward until it is level with the rear seat cushion.
EX-L and Canadian EX models
The seat-back of the power adjustable driver's seat cannot be level. Do not push the seat-back down forcibly.
4. Adjust the rear seat-back to the desired position.
Reverse this procedure to return the front and rear seats to the upright position. Make sure you install the head restraints and securely lock the seats before driving.
When you return the seat-back to its upright position, hold the seat-back to keep it from going up too quickly.
READ NEXT:
Each rear seat-back can be folded down separately to give more cargo room. With either of the outer seatbacks folded-down, you can still carry a passenger in the rear seat. With the center se
The left and right rear seats can be folded up separately to make room for cargo. To fold the rear seat forward: Remove any items from the seat before you fold up the seat cushion. 1. Pul
The seat belt in the rear center seat is equipped with a detachable anchor. This allows the center seat belt to be unlatched when the rear center seat back is folded down or the right side re
SEE MORE:
Removal 1. Raise the vehicle, and support it with safety stands in the proper locations. 2. Remove the wheel with the faulty sensor. 3. Remove the tire valve cap and the valve core, and let the tire deflate. 4. Remove any balance weights, and then break the bead loose from the wheel with a comme
You can also select a folder or file by using the VOL/SELECT knob. Push the VOL/SELECT knob to switch the display to the folder or file list, then turn the VOL/SELECT knob to select a folder or file. Press the VOL/SELECT knob to set your selection. Pressing the button goes back to
© 2016-2023 Copyright www.hcrv.net