Honda CR-V: Folding the Rear Seat Forward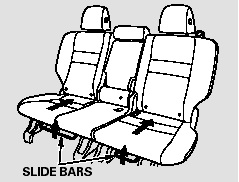 The left and right rear seats can be folded up separately to make room for cargo.
To fold the rear seat forward:
Remove any items from the seat before you fold up the seat cushion.
1. Pull up the bar under the seat cushion and slide the rear seat backward. The rear seat will not fold forward unless it is as far back as it will go.
2. Follow steps 1 through 4 on pages for folding down the seat-back.
Lower the center seat-back before folding the passenger's side seat forward.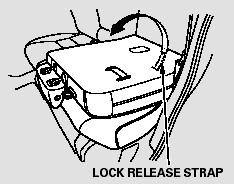 3. Unlock the seat from the floor by pulling the lock release strap located at the rear of the seat cushion, under the seat back, then lift the rear of the seat.
You cannot fold up the rear seat if it is not latched securely in the rearmost position.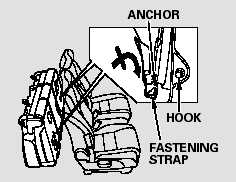 4. Pull out the fastening strap from the slit on the seat-back. Then attach the anchor on the fastening strap to the hook on the center pillar.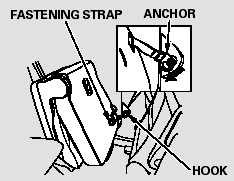 5. Pull down on the anchor to engage the upper part of the anchor securely on the hook, and make sure the seat is secure.
Make sure that the folded up right rear seat does not interfere with the front passenger's seat-back. This will cause the front passenger's weight sensors and the front passenger's seat belt reminder indicator to work improperly. Also check the passenger airbag off indicator to assure proper operation of the passenger's advanced front airbag.
Reverse this procedure to return the seat to the upright position.
Make sure the seat is securely latched before driving.
When you are not using the fastening strap, store the strap into the slit on the seat-back.
Make sure both outer seat belts are positioned in side of the rear seatbacks.
In the center seating position of the rear seat, be sure the detachable anchor is latched securely before using the seat belt (see next column).
Make sure all items in the cargo area are secured. Loose items can fly forward and cause injury if you have to brake hard (See Carrying Cargo).
Do not use the dual deck cargo shelf (if equipped) when the seats are folded down or forward.
READ NEXT:
The seat belt in the rear center seat is equipped with a detachable anchor. This allows the center seat belt to be unlatched when the rear center seat back is folded down or the right side re
If equipped Both front seats are equipped with seat heaters. The passenger seat only has heaters in the seat bottom because of the side airbag cutoff system. The ignition switch must
Turn the ignition switch to the ON (II) position to raise or lower any window. To open the window, push the switch down and hold it. Release the switch when you want to stop the window.
SEE MORE:
NOTE: Before doing any SRS repairs, use the HDS SRS menu method to check for DTCs; refer to the DTC Troubleshooting Index for the less obvious deployed parts (seat belt tensioners, front impact sensors, side airbag sensors, etc.) Do not replace the ODS unit unless it is physically damaged or
Next to the outside temperature indicator of the information display, a compass indicates which direction your vehicle is pointed. It indicates eight directions. N: North S: South E: East W: West NE: Northeast NW: Northwest SE: Southeast SW: Southwest For example, when your vehicl
© 2016-2023 Copyright www.hcrv.net