Honda CR-V: Seat Heaters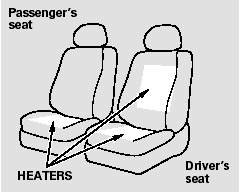 If equipped
Both front seats are equipped with seat heaters. The passenger seat only has heaters in the seat bottom because of the side airbag cutoff system.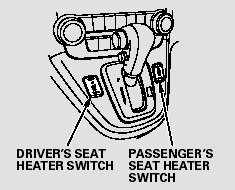 The ignition switch must be in the ON (II) position to use the heaters.
Push the top of the switch, HI, to rapidly heat up the seat. After the seat reaches a comfortable temperature, select LO by pushing the bottom of the switch. This will keep the seat warm.
In the HI setting, the heater turns off when the seat gets warm, and turns back on after the seat's temperature drops.
In the LO setting, the heater runs continuously. It does not cycle with temperature changes.
Follow these precautions when using the seat heaters:
Use the HI setting only to heat the seats quickly, because it draws large amounts of current from the battery.
If the engine is left idling for an extended period, do not use the seat heaters, even on the LO setting. It can weaken the battery, causing hard starting.
READ NEXT:
Turn the ignition switch to the ON (II) position to raise or lower any window. To open the window, push the switch down and hold it. Release the switch when you want to stop the window.
If equipped The moonroof can be tilted up in the back for ventilation, or it can be slid back into the roof. Use the switch on the front ceiling to operate the moonroof. You must turn the
Keep the inside and outside mirrors clean and adjusted for best visibility. Be sure to adjust the mirrors before you start driving. The inside mirror has day and night positions. The night
SEE MORE:
The auto door unlocking feature has five possible settings: The auto door unlocking is deactivated all the time. The driver's door unlocks when you move the shift lever to the Park (P) position with the brake pedal depressed. This is the default setting. All doors and tailgate unlock
(1) Safety Cage (2) Crush Zones (3) Seats and Seat-Backs (4) Head Restraints (5) Collapsible Steering Column (6) Seat Belts (7) Front Airbags (8) Side Airbags (9) Side Curtain Airbags (10) Door Locks (11) Front Seat Belt Tensioners (12) Seat Belt Buckle Tensioners Your vehicle is equ
© 2016-2023 Copyright www.hcrv.net