Honda CR-V: Power Windows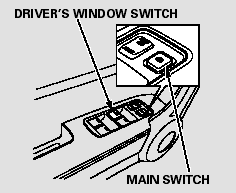 Turn the ignition switch to the ON (II) position to raise or lower any window. To open the window, push the switch down and hold it. Release the switch when you want to stop the window. To close the window, pull back on the switch and hold it.
The windows will operate for up to 10 minutes after you turn off the ignition switch. Opening either front door cancels this function.

Closing a power window on someone's hands or fingers can cause serious injury.
Make sure your passengers are away from the windows before closing them.
AUTO - To open or close the driver's window, push or pull the window switch firmly down or up to the second detent, and release it.
The window will automatically go up or down all the way. To stop the window, pull or push the window switch briefly.
When you push the MAIN switch in, the switch is off, and the passenger windows cannot be raised or lowered.
To cancel this feature, push on the switch again to get it to pop out.
Keep the MAIN switch off when you have children in the vehicle so they do not injure themselves by operating the windows unintentionally.
AUTO REVERSE - If the driver's window senses any obstacle while it is closing automatically, it will reverse direction, and then stop. To close the window, remove the obstacle, then use the window switch again.
Auto reverse stops sensing when the window is almost closed. You should always check that all passengers and objects are away from the window before closing it.
NOTE: The driver's window auto reverse function is disabled when you continuously pull up the switch.
READ NEXT:
If equipped The moonroof can be tilted up in the back for ventilation, or it can be slid back into the roof. Use the switch on the front ceiling to operate the moonroof. You must turn the
Keep the inside and outside mirrors clean and adjusted for best visibility. Be sure to adjust the mirrors before you start driving. The inside mirror has day and night positions. The night
Interior Convenience Items
SEE MORE:
If your vehicle has a discharged battery it can be jumpstarted using a set of jumper cables and a battery in another vehicle or by using a portable battery booster pack. Jump-starting can be dangerous if done improperly so please follow the procedures in this section carefully. NOTE: When using a po
1. Apply grease to the contact area (A) of the outboard joint and front wheel bearing. NOTE: Failure to apply grease may cause excessive noise and vibration. 2. Install a new set ring (A) onto the set ring groove (B) of the driveshaft (left driveshaft). 3. Apply 0.5-1.0 g (0.02-0.04 oz) of grease
© 2016-2023 Copyright www.hcrv.net