Honda CR-V: Mirrors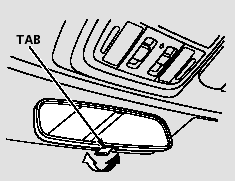 Keep the inside and outside mirrors clean and adjusted for best visibility.
Be sure to adjust the mirrors before you start driving.
The inside mirror has day and night positions. The night position reduces glare from headlights behind you.
Flip the tab on the bottom edge of the mirror to select the day or night position.
Adjusting the Power Mirrors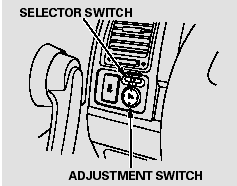 1. Turn the ignition switch to the ON (II) position.
2. Move the selector switch to L (driver's side) or R (passenger's side).
3. Push the appropriate edge of the adjustment switch to move the mirror right, left, up, or down.
4. When you finish, move the selector switch to the center (off) position. This turns the adjustment switch off to keep your settings.
Power Mirror Heaters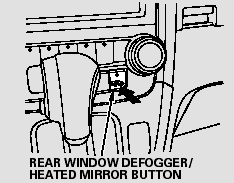 If equipped
The outside mirrors are heated to remove fog and frost. With the ignition switch in the ON (II) position, turn on the heaters by pressing the button. The indicator in the button comes on as a reminder.
Press the button again to turn the heaters off. Pressing this button also turns the rear window defogger on and off.
READ NEXT:
Interior Convenience Items
If equipped The dual deck cargo shelf will separate the storage area into two storage areas. On the upper area, you can store small and light items. You should place heavy items in the l
Be careful when you are using the beverage holders. A spilled liquid that is very hot can scald you or your passengers. Liquid can also spill from the door pocket beverage holders when you o
SEE MORE:
You can use the preset buttons while a disc is playing to select passages and change tracks (files inMP3 or WMA mode). Each preset button's function is shown on the bottom of the screen. You can also select an icon with the joystick.Move it to left, right, up, or down to change
To play the radio when a PC card is playing, press the AM/FM button or touch the FM1, FM2, AM, XM1, or XM2 icon. If a disc is in the audio unit, press the CD/XM button or touch the CD icon to play the disc. If a CD or CDs are in the CD changer, touch the CDC icon to play the disc(s).
© 2016-2022 Copyright www.hcrv.net