Honda CR-V: Detachable Anchor
The seat belt in the rear center seat is equipped with a detachable anchor.
This allows the center seat belt to be unlatched when the rear center seat back is folded down or the right side rear seat is folded forward.

Using the seat belt with the detachable anchor unlatched increases the chance of serious injury or death in a crash.
Before using the seat belt, make sure the detachable anchor is correctly latched.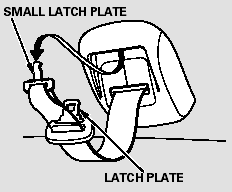 Pull out the small latch plate and the latch plate from each holding slot in the ceiling, and pull out the seat belt to extend it.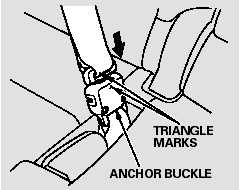 Line up the triangle marks on the small latch plate and anchor buckle when reattaching the belt and buckle.
Tug on the seat belt to verify that the detachable anchor is securely latched. Make sure the seat belt is not twisted.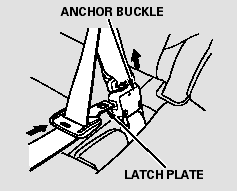 To unlatch the detachable anchor, insert the latch plate into the slot on the side of the anchor buckle. Store the detachable anchor and seat belt latch plates in the retractor housing.
READ NEXT:
If equipped Both front seats are equipped with seat heaters. The passenger seat only has heaters in the seat bottom because of the side airbag cutoff system. The ignition switch must
Turn the ignition switch to the ON (II) position to raise or lower any window. To open the window, push the switch down and hold it. Release the switch when you want to stop the window.
If equipped The moonroof can be tilted up in the back for ventilation, or it can be slid back into the roof. Use the switch on the front ceiling to operate the moonroof. You must turn the
SEE MORE:
Intake Manifold Removal and Installation Exploded View Removal 1. Remove the hood support rod, then use it as shown to prop the hood in the wide-open position. 2. Remove the bulkhead cover. 3. Disconnect the fan motor connectors (A) and hood switch connector (B), then remove the harness clips (C)
To play the radio when a PC card is playing, press the AM/FM button or touch the FM1, FM2, AM, XM1, or XM2 icon. If a disc is in the audio unit, press the CD/XM button or touch the CD icon to play the disc. If a CD or CDs are in the CD changer, touch the CDC icon to play the disc(s).
© 2016-2022 Copyright www.hcrv.net