Honda CR-V: Connecting an iPod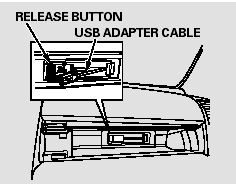 1. Open the upper glove box.
2. Push the release button to release the USB adapter cable.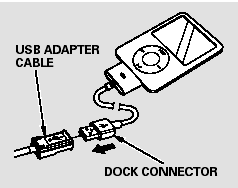 3. Connect your dock connector to the iPod correctly and securely.
4. Install the dock connector to the USB adapter cable securely.
If the iPod indicator does not appear in the audio display, check the connections, and try to reconnect the iPod a few times.
If the audio system still does not recognize the iPod, the iPod may need to be reset. Follow the instructions that came with your iPod, or you can find reset instructions online at www.apple.com/itunes/
READ NEXT:
Each time you press the TITLE button the display mode switches between the album name, the song name, the artist name, or name off (which turns off the text display). The display shows up to
Use the SKIP button while an iPod is playing to change files. SKIP - Each time you press the (SKIP +) button, the system skips forward to the beginning of the next file. Press the (SKIP -)
To play the radio when an iPod is playing, press the FM, AM or XM button. If a disc is in the audio unit, press the CD/AUX or CD button to play the disc. Disconnecting an iPod You can
SEE MORE:
If the display will not open, use this procedure to manually open the display and remove the CD, DVD, and/or the PC card. 1. Remove the navigation unit from the vehicle. 2. On the bench, carefully pull the display (A) straight out (about 1/2 inch). 3. Fold down the display as shown in the diagram
Component Location Index FUEL RAIL FUEL FEED LINE FUEL TANK FUEL TANK UNIT FUEL PUMP FUEL GAUGE SENDING UNIT FUEL PRESSURE REGULATOR FUEL FILTER FUEL FILL CAP FUEL FILL PIPE FUEL LINE/QUICK-CONNECT FITTING FUEL VAPOR LINE FUEL LINE/
© 2016-2023 Copyright www.hcrv.net