Honda CR-V: Relay and Control Unit Locations
Engine Compartment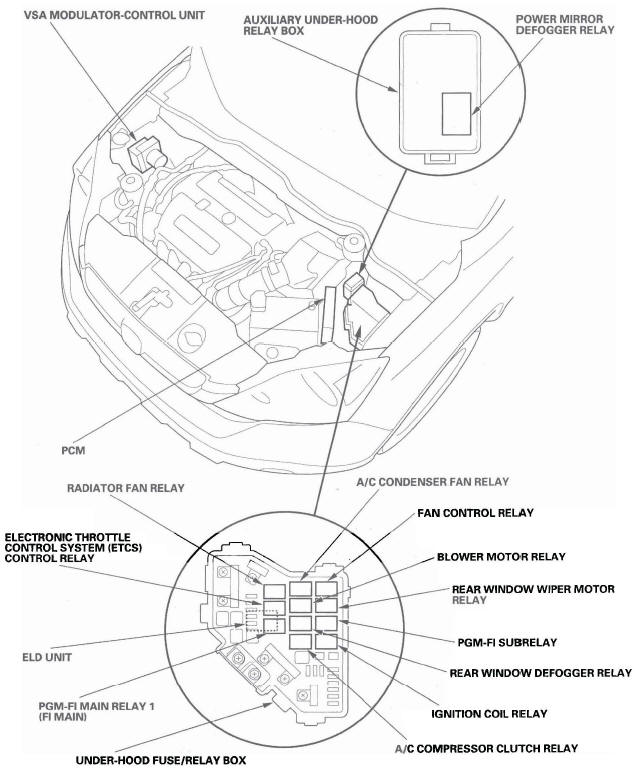 VSA MODULATOR-CONTROL UNIT
AUXILIARY UNDER-HOOD RELAY BOX
POWER MIRROR DEFOGGER RELAY
PCM
RADIATOR FAN RELAY
ELECTRONIC THROTTLE CONTROL SYSTEM (ETCS) CONTROL RELAY
ELD UNIT
PGM-FI MAIN RELAY 1 (FI MAIN)
UNDER-HOOD FUSE/RELAY BOX
FAN CONTROL RELAY
BLOWER MOTOR RELAY
REAR WINDOW WIPER MOTOR RELAY
PGM-FI SUBRELAY
REAR WINDOW DEFOGGER RELAY
IGNITION COIL RELAY
A/C COMPRESSOR CLUTCH RELAY
Dashboard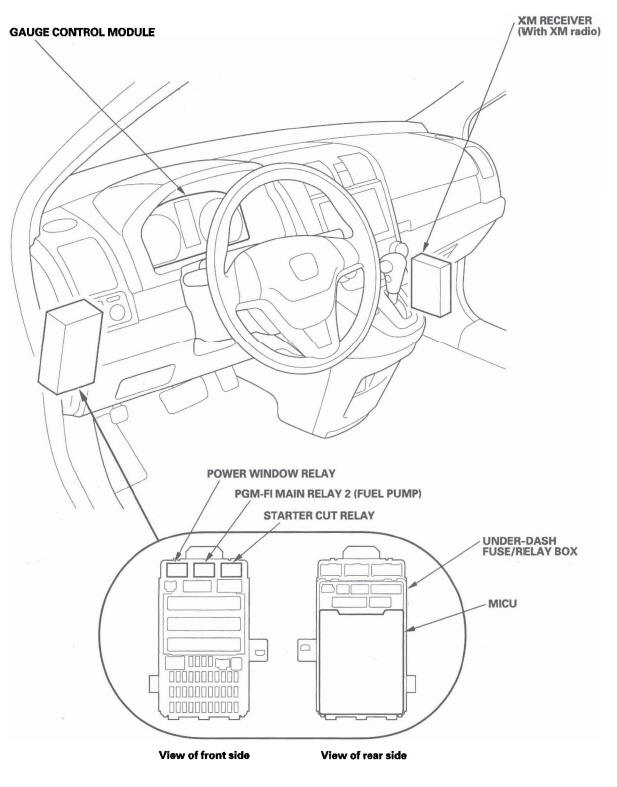 GAUGE CONTROL MODULE
XM RECEIVER (With XM radio)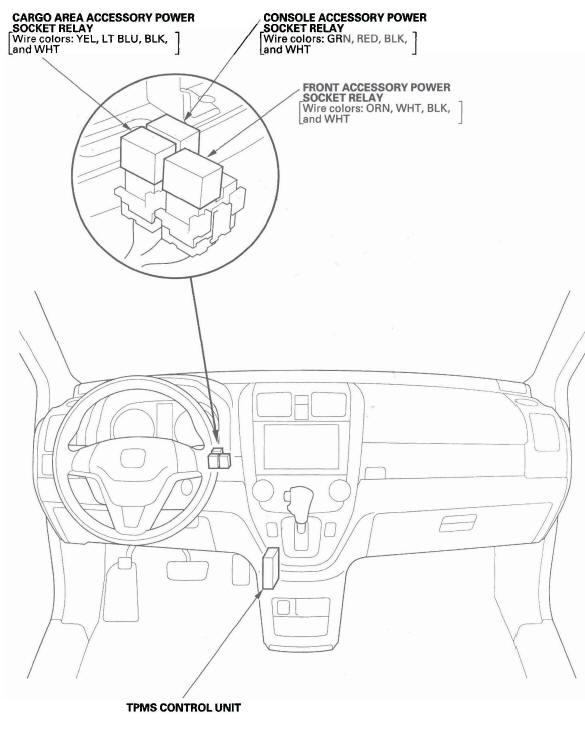 CARGO AREA ACCESSORY POWER SOCKET RELAY
CONSOLE ACCESSORY POWER SOCKET RELAY
FRONT ACCESSORY POWER SOCKET RELAY
TPMS CONTROL UNIT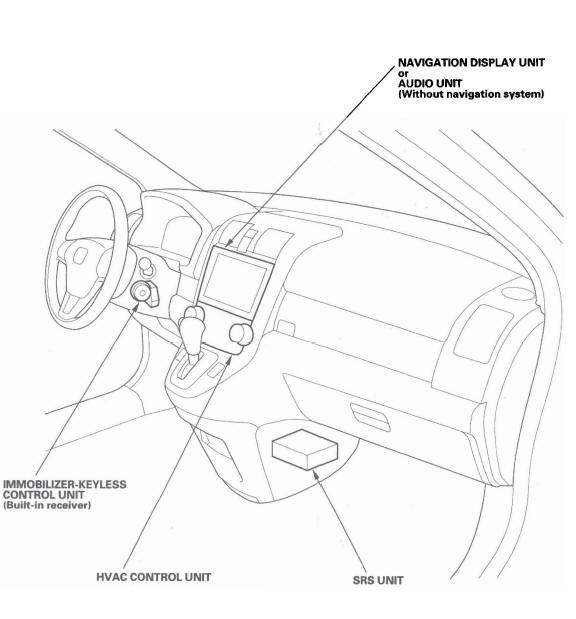 NAVIGATION DISPLAY UNIT or AUDIO UNIT (Without navigation system)
IMMOBILIZER-KEYLESS CONTROL UNIT (Built-in receiver)
HVAC CONTROL UNIT
SRS UNIT
Driver's Door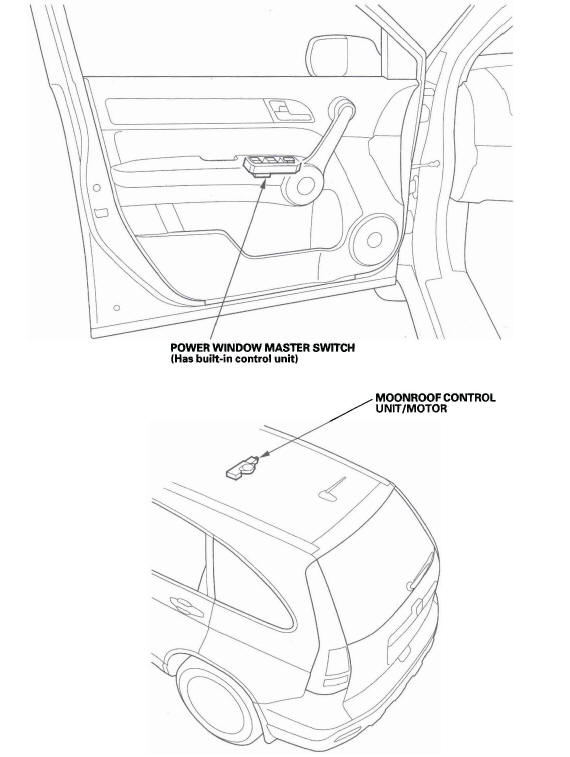 POWER WINDOW MASTER SWITCH (Has built-in control unit)
MOONROOF CONTROL UNIT/MOTOR
Seat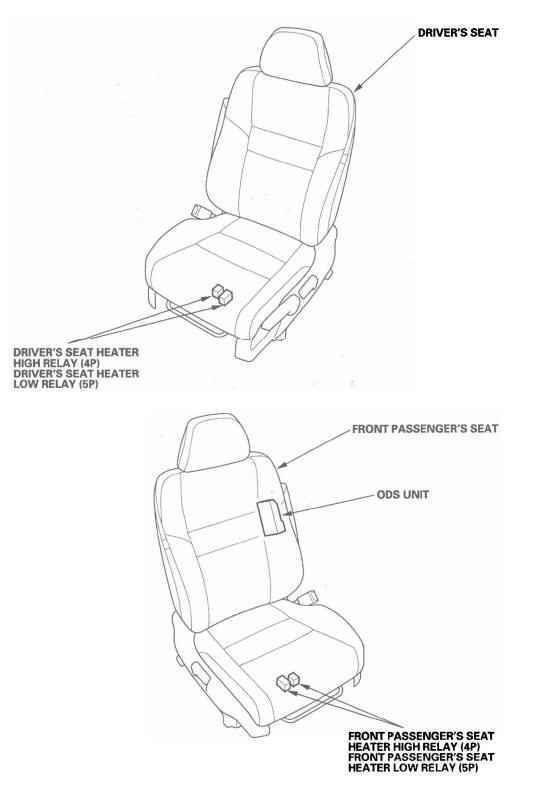 DRIVER'S SEAT
DRIVER'S SEAT HEATER HIGH RELAY (4P)
DRIVER'S SEAT HEATER LOW RELAY (5P)
FRONT PASSENGER'S SEAT
FRONT PASSENGER'S SEAT HEATER HIGH RELAY (4P)
FRONT PASSENGER'S SEAT HEATER LOW RELAY (5P)
READ NEXT:
Connector Index Identification numbers have been assigned to in-line connectors, junction connectors, and terminals. The number is preceded by the letter ºC" for connectors "G" for ground terminals
Under-hood Fuse/Relay Box Removal and Installation Removal 1. Make sure you have the anti-theft codes for the audio and navigation system. If equipped with XM radio, write down the XM radio presets.
WARNING A battery can explode if you do not follow the proper procedure, causing serious injury to anyone nearby. Follow all procedures carefully and keep sparks and open flames away from the battery.
SEE MORE:
Your vehicle has two or three accessory power sockets depending on the model. To use an accessory power socket, the ignition switch must be in the ACCESSORY (I) or ON (II) position. Each socket is intended to supply power for 12 volt DC accessories that are rated 120 watts or l
You can also select a file directly from a track list on the audio display. Press the AUDIO button to show the audio display, then touch the Track List icon. The track list menu appears on the display. To scroll through the display, touch the or icon on the side of the screen.
© 2016-2022 Copyright www.hcrv.net