Honda CR-V: Replacing Rear Bulbs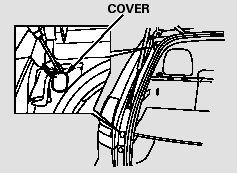 1. Open the tailgate. Place a cloth on the edge of the cover to prevent scratches. Remove the covers by carefully prying on the edge with a small flat-tip screwdriver.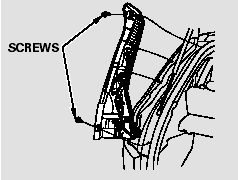 2. Use a Phillips-head screwdriver to remove the taillight assembly mounting screw under each cover.
3. Pull the taillight assembly out of the rear pillar.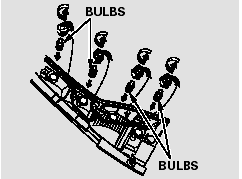 4. Determine which of the four bulbs is burned out: stop/taillight, backup light, turn signal, or side marker.
5. Remove the socket by turning it one-quarter turn counterclockwise.
6. Pull the bulb straight out of its socket. Push the new bulb straight into the socket until it bottoms.
7. Reinstall the socket into the light assembly by turning it clockwise until it locks.
8. Turn on the lights to make sure the new bulb is working.
9. Align the clips on the taillight assembly with the holes in the body, then push the taillight assembly into place. Tighten the two mounting screws securely and reinstall the covers.
READ NEXT:
1. Open the tailgate. Unlatch the top of the cover by pulling back on it with your hands. 2. Place a cloth on the side edge of the cover to prevent scratches. Remove the cover by carefully
Dirt build-up in the loops of the seat belt anchors can cause the belts to retract slowly. Wipe the insides of the loops with a clean cloth dampened in mild soap and warm water or isopropy
The floor mats that came with your vehicle hook over the floor mat anchors. This keeps the floor mats from sliding forward, possibly interfering with the pedals, or backwards, making the f
SEE MORE:
Checking Oil Level To assure proper lubrication of your vehicle's engine, the engine oil must be maintained at the correct level. Check the oil level at regular intervals, such as every fuel stop. The best time to check the engine oil level is about five minutes after a fully warmed up engine is shu
The recommended replacement battery is one CR2032 battery. NOTE: Perchlorate Material - special handling may apply. Do not touch the battery terminals that are on the back housing or the printed circuit board. 1. Remove the emergency key by sliding the mechanical latch on the back of the RKE tr
© 2016-2023 Copyright www.hcrv.net