Honda CR-V: Cleaning the Seat Belts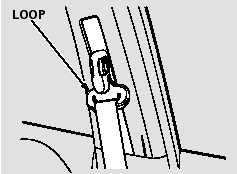 Dirt build-up in the loops of the seat belt anchors can cause the belts to retract slowly. Wipe the insides of the loops with a clean cloth dampened in mild soap and warm water or isopropyl alcohol.
If your seat belts get dirty, use a soft brush with a mixture of mild soap and warm water to clean them. Do not use bleach, dye, or cleaning solvents. Let the belts air-dry before you use the vehicle.
READ NEXT:
The floor mats that came with your vehicle hook over the floor mat anchors. This keeps the floor mats from sliding forward, possibly interfering with the pedals, or backwards, making the f
Your vehicle is equipped with an antenna at the rear of the roof . Bef ore using a ''drive-through'' car wash, remove the antenna by unscrewing it by hand. This prevents the antenna
This filter removes the dust and pollen that is brought in fromthe outside through the heating and cooling system/climate control system. Have your dealer replace this filter when this serv
SEE MORE:
Component Location Index PCV VALVE PCV Valve Inspection 1. Check the PCV valve (A), hoses (B), and connections for leaks or restrictions. 2. At idle, make sure there is a clicking sound from the PCV valve when the hose between the PCV valve and intake manifold is lightly pinched (A) with you
Front Seatbelts Unbuckled Driver Seatbelt Unbuckled Passenger Seatbelt Unbuckled Service Airbag System Traction Control Off Washer Fluid Low Oil Pressure Low Oil Change Due Fuel Low Service Antilock Brake System Service Electronic Throttle Control Service Power Steering Cruise Off Cru
© 2016-2023 Copyright www.hcrv.net