Honda CR-V: Cleaning the Seat Belts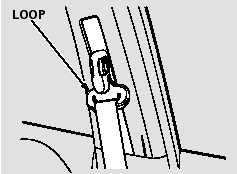 Dirt build-up in the loops of the seat belt anchors can cause the belts to retract slowly. Wipe the insides of the loops with a clean cloth dampened in mild soap and warm water or isopropyl alcohol.
If your seat belts get dirty, use a soft brush with a mixture of mild soap and warm water to clean them. Do not use bleach, dye, or cleaning solvents. Let the belts air-dry before you use the vehicle.
READ NEXT:
The floor mats that came with your vehicle hook over the floor mat anchors. This keeps the floor mats from sliding forward, possibly interfering with the pedals, or backwards, making the f
Your vehicle is equipped with an antenna at the rear of the roof . Bef ore using a ''drive-through'' car wash, remove the antenna by unscrewing it by hand. This prevents the antenna
This filter removes the dust and pollen that is brought in fromthe outside through the heating and cooling system/climate control system. Have your dealer replace this filter when this serv
SEE MORE:
To play the radio when a PC card is playing, press the AM/FM button or touch the FM1, FM2, AM, XM1, or XM2 icon. If a disc is in the audio unit, press the CD/XM button or touch the CD icon to play the disc. If a CD or CDs are in the CD changer, touch the CDC icon to play the disc(s).
Open the lower glove box by pulling the bottom of the handle. Close it with a firm push. Lock or unlock the glove box with the master key. The glove box light comes on when the parking lights are on. An open glove box can cause serious injury to your passenger in a crash, even
© 2016-2021 Copyright www.hcrv.net