Honda CR-V: Floor Mats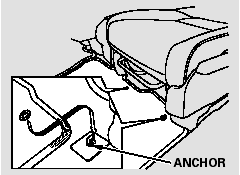 The floor mats that came with your vehicle hook over the floor mat anchors. This keeps the floor mats from sliding forward, possibly interfering with the pedals, or backwards, making the front passenger's weight sensors ineffective.
If you remove a floor mat, make sure to re-anchor it when you put it back in your vehicle.
If you use a non-Honda floor mat, make sure it fits properly and that it can be used with the floormat anchors. Do not put additional floor mats on top of the anchored mats.
READ NEXT:
Your vehicle is equipped with an antenna at the rear of the roof . Bef ore using a ''drive-through'' car wash, remove the antenna by unscrewing it by hand. This prevents the antenna
This filter removes the dust and pollen that is brought in fromthe outside through the heating and cooling system/climate control system. Have your dealer replace this filter when this serv
Check the condition of the wiper blades at least every six months. Replace them if you find signs of cracking in the rubber, areas that are getting hard, or if they leave streaks and unwiped
SEE MORE:
1. Open the upper glove box. 2. Push the release button to release the USB adapter cable. 3. Connect the USB flash memory device to the USB connector correctly and securely. When the USB flash memory device is connected, the USB indicator is shown in the display.
The treadwear grade is a comparative rating based on the wear rate of the tire when tested under controlled conditions on a specified government test course. For example, a tire graded 150 would wear one and onehalf (1 1/2) times as well on the government course as a tire graded 100.
© 2016-2020 Copyright www.hcrv.net