Honda CR-V: Replacing a High-mount Brake Light Bulb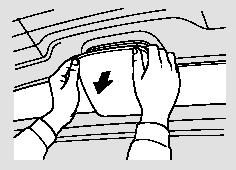 1. Open the tailgate.
Unlatch the top of the cover by pulling back on it with your hands.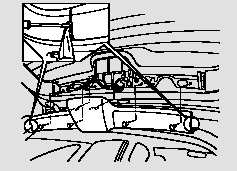 2. Place a cloth on the side edge of the cover to prevent scratches.
Remove the cover by carefully prying on the edge with a small flat-tip screwdriver and pulling the cover off.
3. Remove the socket from the light assembly by turning it one-quarter turn counterclockwise.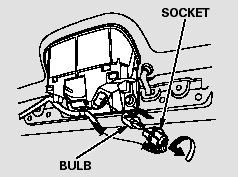 4. Pull the bulb straight out of its socket. Push the new bulb straight into the socket until it bottoms.
5. Press the brake pedal to make sure the new bulb is working.
6. Put the socket back into the light assembly, and turn it clockwise to lock it in place.
7. Put the cover back on the light assembly. Push it in until it locks in place.
READ NEXT:
Dirt build-up in the loops of the seat belt anchors can cause the belts to retract slowly. Wipe the insides of the loops with a clean cloth dampened in mild soap and warm water or isopropy
The floor mats that came with your vehicle hook over the floor mat anchors. This keeps the floor mats from sliding forward, possibly interfering with the pedals, or backwards, making the f
Your vehicle is equipped with an antenna at the rear of the roof . Bef ore using a ''drive-through'' car wash, remove the antenna by unscrewing it by hand. This prevents the antenna
SEE MORE:
You can use any of five methods to find radio stations on the selected band: tune, seek, scan, the preset buttons, and auto select. TUNE - Use the TUNE knob to tune the radio to a desired frequency. Turn the knob to the right to tune to a higher frequency, and turn it to the left to tu
After pressing the Doors & Locks soft-key the following settings will be available: Auto Lock When this feature is selected, all doors will lock automatically when the vehicle reaches a speed of 15 mph (24 km/h). To make your selection, touch the Auto Lock soft-key, until a check-mark appears
© 2016-2023 Copyright www.hcrv.net