Honda CR-V: Replacing a Parking Light/Front Side Marker Light Bulb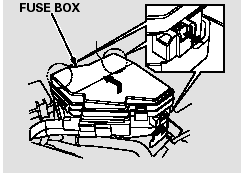 1. Open the hood.
To change the parking light/front side marker on the driver's side, remove the fuse box fromits stay by pulling out.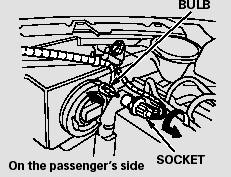 2. Remove the socket from the headlight assembly by turning it one-quarter turn counterclockwise.
3. Pull the bulb straight out of its socket. Push the new bulb straight into the socket until it bottoms.
4. Insert the socket back into the headlight assembly. Turn it clockwise to lock it in place.
5. Turn on the lights to make sure the new bulb is working.
6. (Driver's side)
Reinstall the fuse box in place securely.
READ NEXT:
1. Open the tailgate. Place a cloth on the edge of the cover to prevent scratches. Remove the covers by carefully prying on the edge with a small flat-tip screwdriver. 2. Use a Phillips-h
1. Open the tailgate. Unlatch the top of the cover by pulling back on it with your hands. 2. Place a cloth on the side edge of the cover to prevent scratches. Remove the cover by carefully
Dirt build-up in the loops of the seat belt anchors can cause the belts to retract slowly. Wipe the insides of the loops with a clean cloth dampened in mild soap and warm water or isopropy
SEE MORE:
Your vehicle has a back seat where children can be properly restrained. If you ever have to carry a group of children, and a child must ride in front: Place the largest child in the front seat, provided the child is large enough to wear the lap/shoulder belt properly. Move the vehicle
You can also select a file directly from a track list on the audio display. Press the AUDIO button to show the audio display, then touch the Track List icon. The track list menu appears on the display. To scroll through the display, touch the or icon on the side of the screen.
© 2016-2021 Copyright www.hcrv.net