Honda CR-V: Replacing a Parking Light/Front Side Marker Light Bulb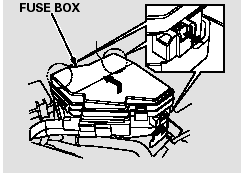 1. Open the hood.
To change the parking light/front side marker on the driver's side, remove the fuse box fromits stay by pulling out.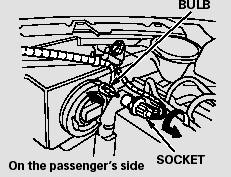 2. Remove the socket from the headlight assembly by turning it one-quarter turn counterclockwise.
3. Pull the bulb straight out of its socket. Push the new bulb straight into the socket until it bottoms.
4. Insert the socket back into the headlight assembly. Turn it clockwise to lock it in place.
5. Turn on the lights to make sure the new bulb is working.
6. (Driver's side)
Reinstall the fuse box in place securely.
READ NEXT:
1. Open the tailgate. Place a cloth on the edge of the cover to prevent scratches. Remove the covers by carefully prying on the edge with a small flat-tip screwdriver. 2. Use a Phillips-h
1. Open the tailgate. Unlatch the top of the cover by pulling back on it with your hands. 2. Place a cloth on the side edge of the cover to prevent scratches. Remove the cover by carefully
Dirt build-up in the loops of the seat belt anchors can cause the belts to retract slowly. Wipe the insides of the loops with a clean cloth dampened in mild soap and warm water or isopropy
SEE MORE:
Hood Adjustment 1. Remove these items: Front bulkhead cover Front fender trim Cowl cover 2. Slightly loosen each bolt (A). 3. Adjust the hood alignment in this sequence: Adjust the hood right and left, as well as forward and rearward, by using the elongated holes in the hood hinges (B).
You can increase the set cruising speed in any of these ways: Press and hold the RES/ACCEL button. When you reach the desired cruising speed, release the button. To increase the speed in very small amounts, tap the RES/ ACCEL button. Each time you do this, your vehicle will speed up
© 2016-2023 Copyright www.hcrv.net