Honda CR-V: Using a Track List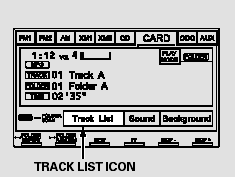 You can also select a file directly from a track list on the audio display.
Press the AUDIO button to show the audio display, then touch the Track List icon. The track list menu appears on the display.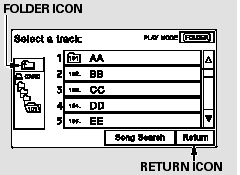 To scroll through the display, touch the

or

icon on the side of the screen. To go back to the previous display, touch the Return icon.
To play a file, touch its icon on the screen. In folder mode, touch the folder icon on the upper left of the screen to move to the parent folder.
The current folder is highlighted in blue.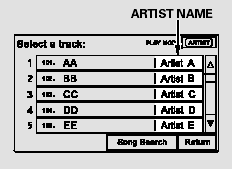 In artist mode, the artist name is also displayed on the right side of each selectable icon. Select the desired file.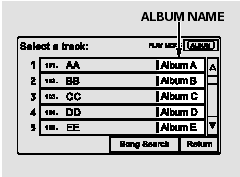 In album mode, the album name is also displayed on the right side of each selectable icon. Select the desired file.
READ NEXT:
When you select ''Song Search'' from the track list display, the song search menu appears. You can then select any of three modes to search a file: Title by Keyword, Artist, a
To play the radio when a PC card is playing, press the AM/FM button or touch the FM1, FM2, AM, XM1, or XM2 icon. If a disc is in the audio unit, press the CD/XM button or touch the CD icon t
To remove a PC card from the audio unit, fold back the screen by pressing the OPEN button. Press the eject button ( ) to remove the card. If you do not remove it from the slot, you cannot
SEE MORE:
A 115 Volt (150 Watts Maximum) outlet is located on the center stack of the instrument panel, to the right of the radio. This outlet can power cellular phones, electronics and other low power devices requiring power up to 150 Watts. Certain high-end video games, such as Playstation3 and XBox360 will
Proper tire inflation pressure is essential to the safe and satisfactory operation of your vehicle. Three primary areas are affected by improper tire pressure: Safety Economy Ride Comfort And Vehicle Stability Safety WARNING! Improperly inflated tires are dangerous and can cause collisions.
© 2016-2023 Copyright www.hcrv.net