Honda CR-V: Song Search Function
When you select ''Song Search'' from the track list display, the song search menu appears.
You can then select any of three modes to search a file: Title by Keyword, Artist, and Album.
Searching for a Song Title by Keyword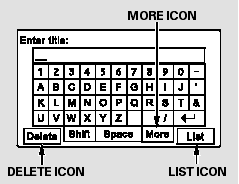 In Title by Keyword mode, enter the title name, or any keyword, by touching the letter icons on the screen. Press the List icon to begin the song search. If you press the CANCEL button on the control panel, the display returns to the mode menu without doing a search.
To cancel the selected letter, touch the Delete icon. To select more characters, touch the More icon.
The other character list will be shown.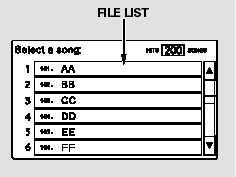 After the system searches for a song, a file list is displayed. To scroll through the list, touch the

or

icon on the side of the screen. Select the desired file by touching the appropriate icon, or moving the joystick and pressing ENT.
Searching for a Song by Artist Name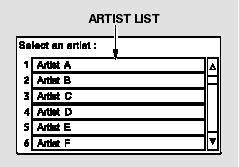 Select the Artist icon, and the artist list appears. Select the desired artist, and the artist's file list is displayed.
Searching for a Song by Album Name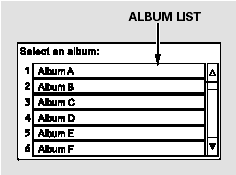 Select the Album icon, and the album list appears. Select the desired album, and its song list is displayed.
You can then select the desired song from the list.
READ NEXT:
To play the radio when a PC card is playing, press the AM/FM button or touch the FM1, FM2, AM, XM1, or XM2 icon. If a disc is in the audio unit, press the CD/XM button or touch the CD icon t
To remove a PC card from the audio unit, fold back the screen by pressing the OPEN button. Press the eject button ( ) to remove the card. If you do not remove it from the slot, you cannot
If there is a problem with the PC card player, see your dealer. If you see an error message in the display while playing a PC card, find the solution in the chart to the right. If you cannot
SEE MORE:
Each time you press the TITLE button, the display shows you the text, if the disc was recorded with text data. You can see the album, artist, and track name in the display. If a disc is recorded in MP3 or WMA, you can see the folder and file name, and the artist, album, and track tag.
Your vehicle can be towed behind a motorhome at legal highway speeds up to 65 mph (100 km/h). Do not exceed 65 mph (100 km/h). Otherwise, severe transmission damage will occur. To avoid damage to the 4WD system, your vehicle must be towed with all four wheels on the ground (flat towin
© 2016-2022 Copyright www.hcrv.net