Honda CR-V: Replacing a Headlight Bulb
Your vehicle has halogen headlight bulbs. When replacing a bulb, handle it by its base, and protect the glass from contact with your skin or hard objects. If you touch the glass, clean it with denatured alcohol and a clean cloth.

Halogen headlight bulbs get very hot when lit. Oil, perspiration, or a scratch on the glass can cause the bulb to overheat and shatter.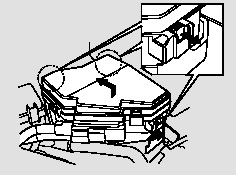 1. Open the hood.
To change the headlight bulb on the driver's side, remove the under-hood fuse box from its stay by pulling it out.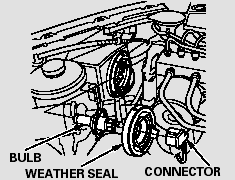 2. Remove the electrical connector from the bulb by pulling the connector straight back.
3. Remove the rubber weather seal by pulling on the tab.
4. Unclip the end of the hold-down wire from its slot. Pivot it out of the way, and remove the bulb.
5. Install the new bulb into the hole, making sure the tabs are in their slots. Pivot the hold-down wire back in place, and clip the end into the slot.
6. Install the rubber seal over the back of the headlight assembly.
Make sure one of the three arrows on the rubber seal is facing up; it is marked ''->''.
7. Push the electrical connector onto the new bulb. Make sure it is connected securely. Turn on the headlights to test the new bulb.
8. (Driver's side)
Reinstall the under-hood fuse box.
READ NEXT:
1. Open the hood. To change the turn signal bulb on the driver's side, remove the engine coolant reserve tank by pulling it out of its holder. 2. Remove the socket from the headlight a
1. Open the hood. To change the parking light/front side marker on the driver's side, remove the fuse box fromits stay by pulling out. 2. Remove the socket from the headlight assembly
1. Open the tailgate. Place a cloth on the edge of the cover to prevent scratches. Remove the covers by carefully prying on the edge with a small flat-tip screwdriver. 2. Use a Phillips-h
SEE MORE:
The Sentry Key Immobilizer System prevents unauthorized vehicle operation by disabling the engine. The system does not need to be armed or activated. Operation is automatic, regardless of whether the vehicle is locked or unlocked. The system uses a Key Fob with a factory-mated Remote Keyless Entry
Malfunction Indicator Lamp (MIL) Indication (In relation to Readiness Codes) The vehicle has certain "readiness codes" that are part of the on-board diagnostics for the emissions systems. If the vehicle's battery has been disconnected or gone dead, if the DTCs have been cleared, or if the PCM has b
© 2016-2023 Copyright www.hcrv.net