Honda CR-V: Owner's Maintenance Checks
You should check the following items at the specified intervals. If you are unsure of how to perform any check, turn to the appropriate page listed.
Engine oil level - Check every time you fill the fuel tank.
Engine coolant level - Check the radiator reserve tank every time you fill the fuel tank.
Automatic transmission - Check the fluid level monthly.
Brakes - Check the fluid level monthly.
Tires - Check the tire pressure monthly. Examine the tread for wear and foreign objects.
Lights - Check the operation of the headlights, parking lights, taillights, high-mount brake light, and license plate light monthly.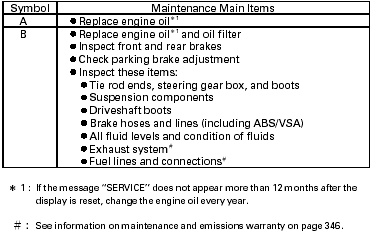 NOTE:
Independent of themaintenance items in the information display, replace the brake fluid every 3 years.
Inspect idle speed every 160,000miles (256,000 km).
Adjust the valves during services A, B, 1, 2, or 3 only if they are noisy.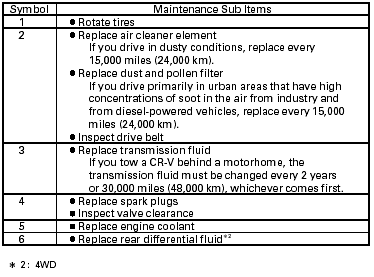 READ NEXT:
Unscrew and remove the engine oil fill cap on top of the valve cover. Pour in the oil slowly and carefully you do not spill any. Clean up any spills immediately. Spilled oil could damage co
Oil is a major contributor to your engine's performance and longevity. Always use a premium-grade 0W-20 detergent oil displaying the API Certification Seal. This seal indicates the oil is e
SEE MORE:
VSA Modulator-control Unit Inputs and Outputs for 46P Connector System Outline This system is composed of the VSA modulator-control unit, the wheel sensors, the steering angle sensor, and the yaw rate-lateral acceleration sensor, and the system indicators in the gauge control module. The VSA mo
To listen to XM radio, turn the ignition switch to the ACCESSORY (I) or the ON (II) position. Push the button to turn on the audio system, and press the ''XM'' button. Adjust the volume by turning the VOL/SELECT knob. The last channel you listened to will show in the display.
© 2016-2021 Copyright www.hcrv.net