Honda CR-V: Adding Engine Oil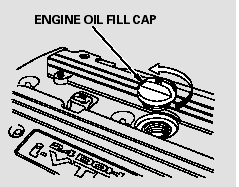 Unscrew and remove the engine oil fill cap on top of the valve cover.
Pour in the oil slowly and carefully you do not spill any. Clean up any spills immediately. Spilled oil could damage components in the engine compartment.
Reinstall the engine oil fill cap, and tighten it securely. Wait a few minutes, and recheck the oil level on the engine oil dipstick. Do not fill above the upper mark; you could damage the engine.
READ NEXT:
Oil is a major contributor to your engine's performance and longevity. Always use a premium-grade 0W-20 detergent oil displaying the API Certification Seal. This seal indicates the oil is e
You may use a synthetic motor oil if it meets the same requirements given for a conventional motor oil: it displays the API certification seal, and it is the proper weight. You must follow t
Your vehicle does not require any oil additives. Additives may adversely affect the engine or transmission performance and durability.
SEE MORE:
To remove a disc from the audio unit, fold back the screen by pressing the OPEN button. Press the disc eject button ( ) to remove the disc. If you eject the disc, but do not remove it from the slot, the system will automatically reload it after 10 seconds and put it in pause mode.
Component Location Index POWER MIRROR ACTUATOR Replacement POWER MIRROR Replacement MIRROR HOLDER Replacement MOUNT REARVIEW MIRROR Replacement Power Mirror Replacement Special Tools Required KTC trim tool set SOJATP2014 * * Available through the American Honda T
© 2016-2022 Copyright www.hcrv.net