Honda CR-V: Instant Fuel Economy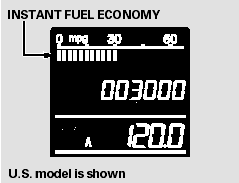 This display shows the instant fuel economy you are getting.
It shows the number of mpg (U.S.) or l/100 km (Canada).
READ NEXT:
When either of the trip meters (trip A or B) is displayed, your vehicle's average fuel economy since you last reset that tripmeter can be shown on the information display (mpg on U.S. mode
This display shows the estimated distance you can travel on the fuel remaining in the tank. This distance is estimated from the fuel economy you have achieved over the last few miles (kilomet
The odometer shows the total distance your vehicle has been driven. It measures miles in U.S. models and kilometers in Canadian models. It is illegal under U.S. federal law and Canadian provin
SEE MORE:
If you see an error message in the display while playing a disc, find the cause in the chart to the right. If you cannot clear the error message, take your vehicle to your dealer. The chart on the right explains the error messages you may see in the display while playing a disc. If
NOTE: Check the radio reception in an open area. Compare it to a known-good vehicle of the same model, year, and trim level whenever possible. If necessary, have the customer demonstrate the symptom. Poor reception/interference can be caused by the following. The radio station is far away.
© 2016-2023 Copyright www.hcrv.net