Honda CR-V: Front Driveshaft Installation
1. Apply grease to the contact area (A) of the outboard joint and front wheel bearing.
NOTE: Failure to apply grease may cause excessive noise and vibration.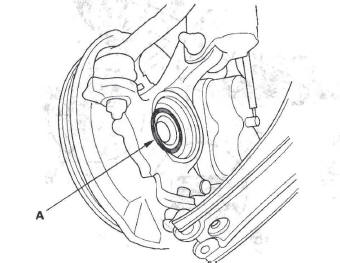 2. Install a new set ring (A) onto the set ring groove (B) of the driveshaft (left driveshaft).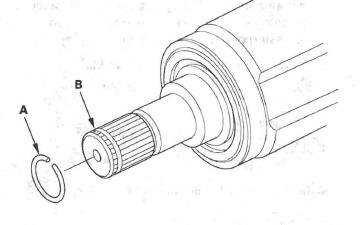 3. Apply 0.5-1.0 g (0.02-0.04 oz) of grease to the whole splined surface (A) of the right driveshaft.
After applying grease, remove the grease from the splined grooves at intervals of 2-3 splines and from the set ring groove (B) so that air can bleed from the intermediate shaft.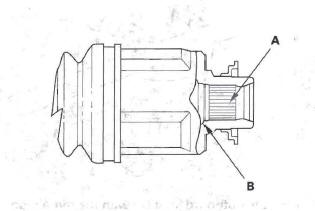 4. Clean the areas where the driveshaft contacts the differential thoroughly with solvent or brake cleaner, and dry with compressed air. Insert the inboard end (A) of the driveshaft into the differential (B) or intermediate shaft (C) until the set ring (D) locks in the groove (E).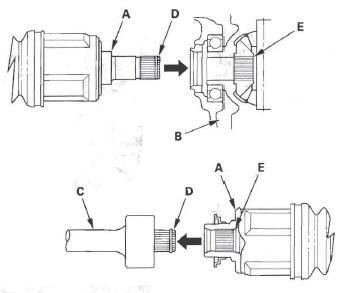 5. Install the outboard joint (A) into the front hub (B).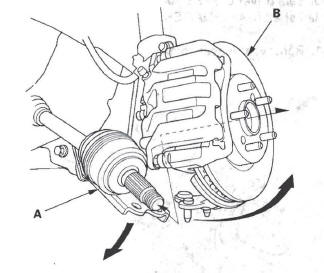 6. Install the knuckle (A) onto the lower arm (B).
Then tighten the nuts and bolt (C) to the torque specification.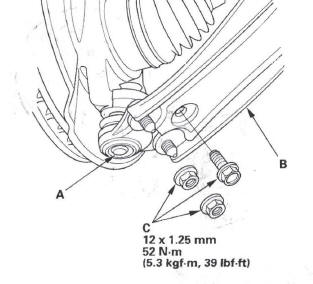 7. Install a new spindle nut (A), then tighten the nut.
After tightening; use a drift to stake the spindle' nut shoulder (B) against the driveshaft.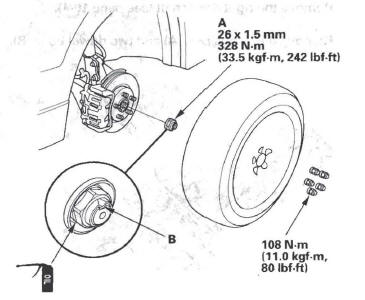 8. Clean the mating surfaces of the brake disc and the front wheel, then install the front wheel.
9. Turn the front wheel by hand, and make sure there is no interference between the driveshaft and surrounding parts.
10. Refill the transmission with the recommended automatic transmission fluid.
11. Check the front wheel alignment, and adjust it if necessary.
READ NEXT:
Intermediate Shaft Removal 1. Drain the automatic transmission fluid. Reinstall the drain plug with a new washer. 2. Remove the right driveshaft. 3. Remove the flange bolt (A) and two dowel bolts (
Rear Driveshaft Removal 1. Raise the vehicle on a lift, and remove the rear wheels. 2. Lift up the locking tab (A) on the spindle nut (B), then remove the nut. 3. Drain the differential fluid. 4. R
Propeller Shaft Inspection Universal Joint and Boots 1. Set the parking brake, then shift the transmission to the N position. 2. Raise the vehicle on a lift. 3. Check the center support bearing (A)
SEE MORE:
1. Select . The system automatically switches to fresh air mode and turns on the A/C. The A/C indicator does not come on if it was off to start with. 2. Select . 3. Set the fan and temperature controls to maximum level. To clear the windows faster, you can close the dashboard corner
1. Raise the rear of the vehicle, and support it with safety stands in the proper locations. 2. Remove the rear wheel. 3. Place a floor jack under the trailing arm, and support the suspension. 4. Remove the wheel sensor harness bracket (A) from the upper arm (B). 5. Remove the flange bolts (A),
© 2016-2023 Copyright www.hcrv.net