Honda CR-V: Differential Mount Replacement
Exploded View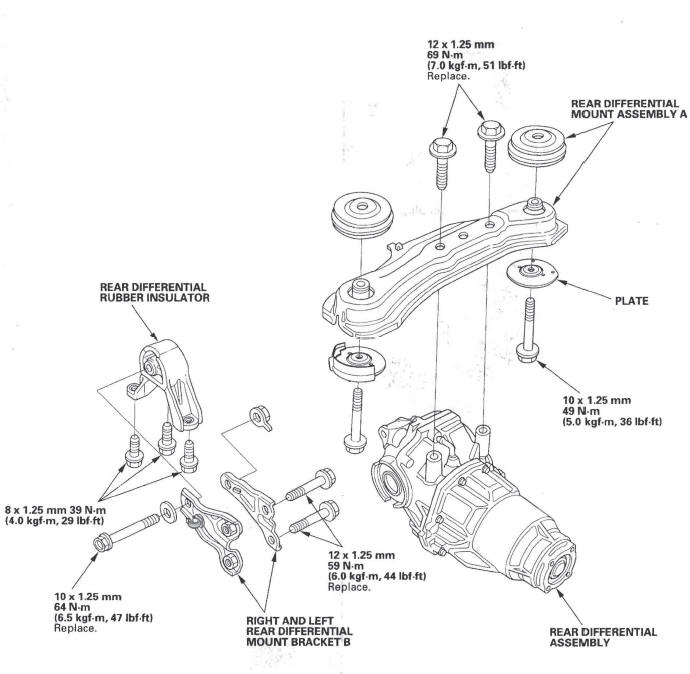 Differential Installation
1. Install rear differential mount assembly A to the rear differential assembly (B).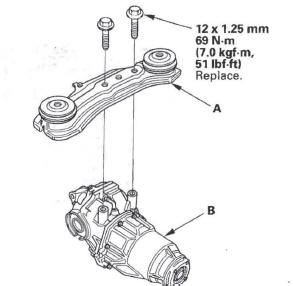 2. Jack up the rear differential.
3. Install the new set rings (A) onto the driveshafts, then insert the drives hafts into the rear differential.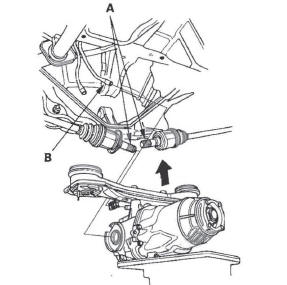 4. Lift the rear differential up into position, then push on both driveshafts to lock the set rings into place.
Connect the breather tube (B).
5. Align the tab (A) of the rubber mount (B) with the hole (C) of the plates (D), then install the plates and torque the rear differential mount assembly mounting bolts (E).
NOTE: The rubber heat insulator (F) is installed only in the right side.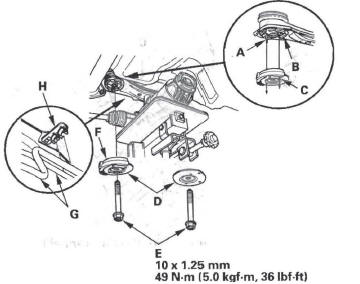 6. Install the breather tubes (G) to the clips (H).
7. Install the right and left rear differential mount brackets B (A), then torque the bolts (B).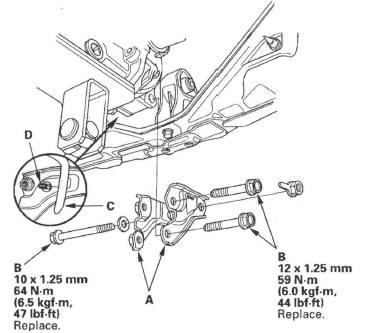 8. Install the breather tube (C) to the clip (D).
9. Install the No.2 propeller shaft (A) onto the rear differential (B) by aligning the reference marks (C) made during removal. Make sure you use new mounting bolts (D).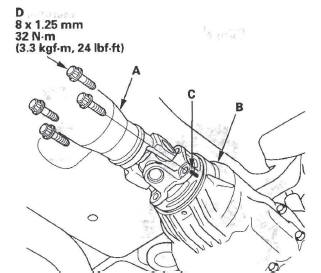 10. Fill the rear differential with the differential fluid to the proper level.
READ NEXT:
Special Tools Oil Seal Driver Attachment, 52 x 55 mm Half Shaft Base Threaded Adapter, 24 x 1.5 mm Threaded Adapter, 26 x 1.5 mm Attachment, 35 mm I.D. Driver Inner Handle, 30 mm Oil Seal
1. Check the inboard boot (A) and the outboard boot (B) on the driveshaft (C) for cracks, damage, leaking grease, and loose boot bands (D). If any damage is found, replace the boot and boot bands. 2.
Special Tools Required Threaded adapter, 26 x 1.5 mm 07XAC-001030A Slide hammer, 5/8"-18 UNF, commercially available Inboard Joint Side 1. Remove the set ring (A) from the inboard joint. 2. Remov
SEE MORE:
To apply the parking brake, push the pedal down with your foot. To release it, push on the pedal again. The parking brake indicator on the instrument panel should go out when the parking brake is fully released. Driving the vehicle with the parking brake applied can damage the re
Many parents say they prefer to put an infant or a small child in the front passenger seat so they can watch the child, or because the child requires attention. Placing a child in the front seat exposes the child to hazards in a frontal collision, and paying close attention to a child
© 2016-2023 Copyright www.hcrv.net