Honda CR-V: XM Radio Display Messages
''LOADING'' - XM is loading the audio or program information.
''OFF AIR'' - The channel currently selected is no longer broadcasting.
''UPDATING'' - The encryption code is being updated. Wait until the encryption code is fully updated.
Channels 0 and 1 should still work normally.
''NO SIGNAL'' - The signal is currently too weak. Move the vehicle to an area away from tall buildings, and with an unobstructed view of the southern horizon.
'' - - - - '' - The selected channel number does not exist, or is not part of your subscription, or this channel has no artist or title information at this time.
''ANTENNA'' - There is a problem with the XM antenna. Please consult your dealer.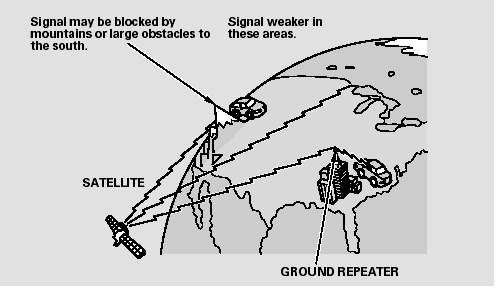 The XM satellites are in orbit over the equator; therefore, objects south of the vehicle may cause satellite reception interruptions. To help compensate for this, ground-based repeaters are placed in major metropolitan areas.
Satellite signals are more likely to be blocked by tall buildings and mountains the farther north you travel from the equator. Carrying large items on a roof rack can also block the signal.
Depending on where you drive, you may experience reception problems.
Interference can be caused by any of these conditions:
Driving on the north side of a large commercial truck on an east/west road.
Driving in tunnels.
Driving on a road beside a vertical wall, steep cliff, or hill to the south of you.
Driving on the lower level of a multi-tiered road.
Driving on a single lane road alongside dense trees taller than 50 ft. (15 m) to the south of you.
Driving on the north side of an east/west mountain road.
Large items carried on a roof rack.
There may be other geographic situations that could affect XM Radio reception.
As required by the FCC:
Changes or modifications not expressly approved by the party responsible for compliance could void the user's authority to operate the equipment.
READ NEXT:
If your XM Radio service has expired or you purchased your vehicle from a previous owner, you can listen to a sampling of the broadcasts available on XM Radio. With the ignition switch in th
Playing Discs (EX and EX-L models without navigation system)
To load or play discs, the ignition switch must be in the ACCESSORY (I) or ON (II) position. You operate the disc changer with the same controls used for the radio. To select the disc changer,
SEE MORE:
You can select the AUX mode by using the navigation system voice control buttons, but cannot operate the play mode functions. The specifications for compatible MP3 files are: Sampling frequency: 32/44.1/48 kHz (MPEG1) 16/22.05/24 kHz (MPEG2) Bitrate: 32/40/48/56/64/80/96/112/128/160/19
On LX and EX models To use the center table, pull up the outside edge of the table until it latches. To store it, pull the lever and lower the table. Sitting on or getting under the table, or putting heavy objects on the table, may damage or deform it. Do not put any items on th
© 2016-2023 Copyright www.hcrv.net