Honda CR-V: Playing Discs (EX and EX-L models without navigation system)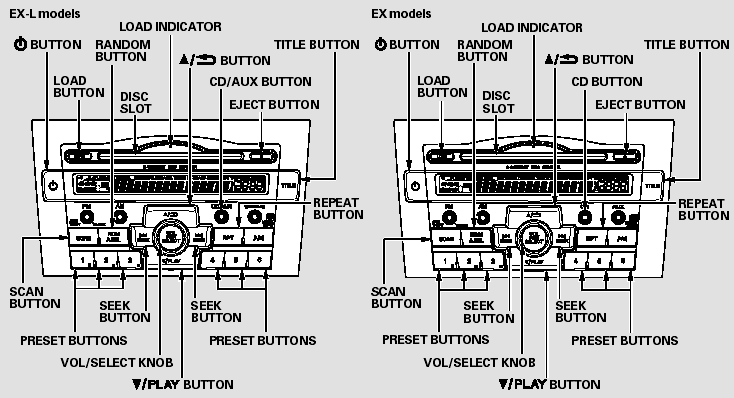 Playing Discs (EX and EX-L models without navigation system)
READ NEXT:
To load or play discs, the ignition switch must be in the ACCESSORY (I) or ON (II) position. You operate the disc changer with the same controls used for the radio. To select the disc changer,
Your vehicle's in-dash disc changer holds up to six discs. 1. Press the LOAD button until you hear a beep and see ''LOAD'' on the display. To load only one CD, press and release th
Each time you press the TITLE button, the display shows you the text, if the disc was recorded with text data. You can see the album, artist, and track name in the display. If a disc is rec
SEE MORE:
NOTE: Use this troubleshooting procedure if the A/C compressor, the A/C condenser fan, and radiator fan are inoperative. Before doing symptom troubleshooting, check for and resolve any powertrain DTCs. 1. Turn the ignition switch ON (II). 2. Check if the blower motor operates at all speeds.
All wheels and wheel trim, especially aluminum and chrome plated wheels, should be cleaned regularly with a mild soap and water to prevent corrosion. To remove heavy soil and/or excessive brake dust, use MOPAR Wheel Cleaner. NOTE: If your vehicle is equipped with Dark Vapor Chrome wheels DO N
© 2016-2023 Copyright www.hcrv.net