Honda CR-V: VSA OFF Switch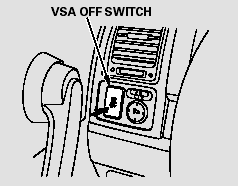 This switch is under the driver's side vent. To turn the VSA system on and off, press and hold it until you hear a beep.
When VSA is off, the VSA off indicator comes on as a reminder.
Press and hold the switch again. It turns the system back on.
VSA is turned on every time you start the engine, even if you turned it off the last time you drove the vehicle.
In certain unusual conditions when your vehicle gets stuck in shallow mud or fresh snow, it may be easier to free it with the VSA temporarily switched off. When the VSA system is off, the traction control system is also off. You should only attempt to free your vehicle with the VSA off if you are not able to free it when the VSA is on.
Immediately after freeing your vehicle, be sure to switch the VSA on again. We do not recommend driving your vehicle with the VSA and traction control systems switched off.
READ NEXT:
Driving with varying tire or wheel sizes may cause the VSA to malfunction. When replacing tires, make sure they are the same size and type as your original tires. If you install winter tires,
Your vehicle is equipped with a tire pressure monitoring system (TPMS) that turns on every time you start the engine and monitors the pressure in your tires while driving. Each tire has its o
If you have a flat tire, the low tire pressure indicator will come on. Replace the flat tire with the compact spare tire. Each wheel (except the compact spare tire wheel) is equippedwith a t
SEE MORE:
The Tire Pressure Monitor System (TPMS) uses wireless technology with wheel rim mounted electronic sensors to monitor tire pressure levels. Sensors mounted to each wheel as part of the valve stem transmit tire pressure readings to the receiver module. NOTE: It is particularly important for you to ch
Hood Adjustment 1. Remove these items: Front bulkhead cover Front fender trim Cowl cover 2. Slightly loosen each bolt (A). 3. Adjust the hood alignment in this sequence: Adjust the hood right and left, as well as forward and rearward, by using the elongated holes in the hood hinges (B).
© 2016-2023 Copyright www.hcrv.net