Honda CR-V: Vents, Heating, and A/C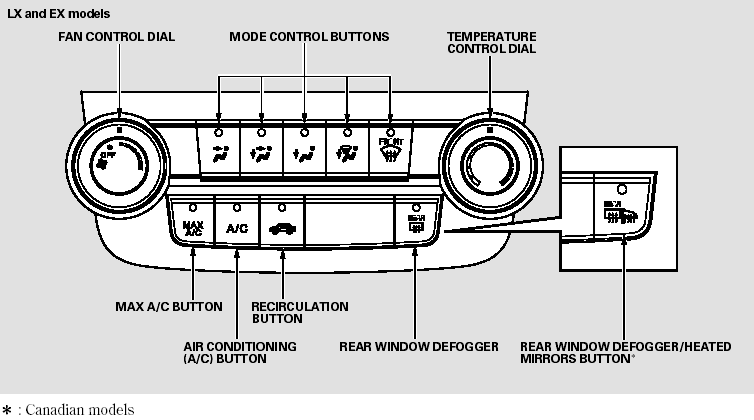 Vents, Heating, and A/C
Fan Control Dial
Turn this dial to increase or decrease the fan speed and airflow.
Temperature Control Dial
Turning this dial clockwise increases the temperature of the airflow.
Air Conditioning (A/C) Button
This button turns the air conditioning on and off. The indicator in the button is on when the A/C is on.
MAX A/C Button

The system automatically turns on the A/C and switches to recirculation mode. Air flows from the center and side vents in the dashboard. Pressing the

, A/C, or any of the mode buttons cancels MAX A/C, but the A/C stays on.
Recirculation Button

When the recirculation indicator is on, air from the vehicle's interior is sent throughout the system again.
When the indicator is off, air is brought in from the outside of the vehicle (fresh air mode).
The outside air intakes for the heating and cooling system are at the base of the windshield. Keep this area clear of leaves and other debris.
The systemshould be left in fresh air mode under almost all conditions.
Keeping the system in recirculation mode, particularly with the A/C off, can cause the windows to fog up.
Switch to recirculation mode when driving through dusty or smoky conditions, then return to fresh air mode.
Rear Window Defogger Button

This button turns the rear window defogger off and on.
Canadian models only
Pushing this button also turns the power mirror heaters on and off.
READ NEXT:
Use the mode control buttons to select the vents air flows from. Some air will flow from the dashboard corner vents in all modes. Air flows from the center and corner vents in the dashboa
The flow-through ventilation system draws in outside air, circulates it through the interior, then discharges it through vents near the tailgate. 1. Set the temperature to the lower limit. 2
The heater uses engine coolant to warm the air. If the engine is cold, it will be several minutes before you feel warm air coming from the system. 1. Select . When you select , the system
SEE MORE:
Component Location Index GLASS DRAIN CHANNEL SUNSHADE CABLE ASSEMBLY CABLE TUBE REAR BRACKET MOTOR WIND DEFLECTOR REAR DRAIN TUBE REAR DRAIN VALVE FRAME CLIP FRONT DRAIN VALVE FRONT DRAIN TUBE Symptom Troubleshooting Index Glass Position Adjustment The roof panel (A) should be ev
NOTE: Take care not to scratch the door. Put on gloves to protect your hands. 1. Remove these items: Door panel, front , rear. Door speaker, front, rear. 2. From the front or the rear door, remove the screw. 3. Using a utility knife, carefully cut the double-sided adhesive tape (A) along th
© 2016-2023 Copyright www.hcrv.net