Honda CR-V: TPMS (Tire Pressure Monitoring System)
Component Location Index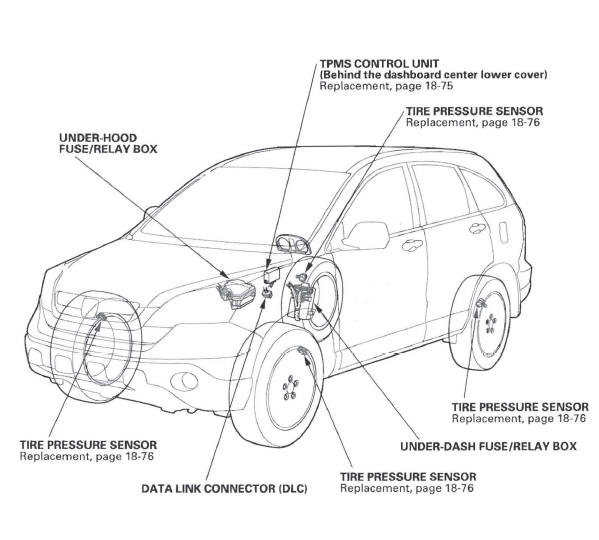 TPMS CONTROL UNIT (Behind the dashboard center lower cover)
TIRE PRESSURE SENSOR
TIRE PRESSURE SENSOR
UNDER-DASH FUSE/RELAY BOX
TIRE PRESSURE SENSOR
DATA LINK CONNECTOR (DLC)
TIRE PRESSURE SENSOR
UNDER-HOOD FUSE/RELAY BOX
READ NEXT:
System Indicator locations The system has two indicators. The low pressure indicator (A) The TPMS indicator (B) How TPMS Works The TPMS (tire pressure monitoring system) has a low pressure indica
Special Tools Required TPMS sensor initializer tool AKS0620006 Available through the American Honda Tool and Equipment program, 888-424-6857. All four tire pressure sensor IDs must be memorized to th
DTC 11, 13, 15, 17: Low Tire Pressure NOTE: If low tire pressure is detected, the control unit sets one or more of these DTCs, and turns on the low pressure indicator. If the low pressure indicator co
SEE MORE:
Each time you press the TITLE button, the display shows you the text, if the disc was recorded with text data. You can see the album, artist, and track name in the display. If a disc is recorded in MP3 or WMA, you can see the folder and file name, and the artist, album, and track tag.
Functional Diagram The electronic control system consists of the powertrain control module (PCM), sensors, and solenoid valves. Shifting and lock-up are electronically controlled for comfortable driving under all conditions. The PCM receives input signals from the sensors, switches, and other co
© 2016-2022 Copyright www.hcrv.net