Honda CR-V: ThreeWay Catalytic Converter
The three way catalytic converter contains precious metals that serve as catalysts, promoting chemical reactions to convert the exhaust gasses without affecting the metals.
The catalytic converter is referred to as a three-way catalyst, since it acts on HC, CO, and NOx. A replacement unit must be an original Honda part or its equivalent.
The three way catalytic converter must operate at a high temperature for the chemical reactions to take place. It can set on fire any combustible materials that come near it. Park your vehicle away from high grass, dry leaves, or other flammables.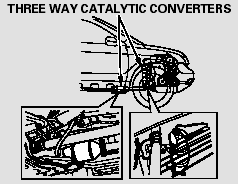 A defective three way catalytic converter contributes to air pollution, and can impair your engine's performance.
Follow these guidelines to protect your vehicle's three way catalytic converter.
Always use unleaded gasoline.
Even a small amount of leaded gasoline can contaminate the catalyst metals, making the three way catalytic converter ineffective.
Keep the engine well maintained.
Have your vehicle diagnosed and repaired if it is misfiring, backfiring, stalling, or otherwise not running properly.
READ NEXT:
Testing of Readiness Codes If you take your vehicle for an emissions test shortly after the battery has been disconnected or gone dead, it may not pass the test. This is because of certain '
Honda dealership personnel are trained professionals. They should be able to answer all your questions. If you encounter a problem that your dealership does not solve to your satisfaction, pl
SEE MORE:
Specia1 Tools Required SRS inflator simulator 07SAZ-TB4011A SRS simulator lead L 070AZ-SNAA300 NOTE: Before doing this troubleshooting procedure, review SRS Precautions and Procedures. 1. Erase the DTC memory. 2. Turn the ignition switch ON (II), and check that the SRS indicator comes on for
Pump Replacement 1. Place a suitable container under the vehicle. 2. Drain the power steering fluid from the reservoir. 3. Remove the drive belt (A) from the pump pulley. 4. Cover the auto-tensioner, alternator, and A/C compressor with several shop towels to protect them from spilled power steeri
© 2016-2023 Copyright www.hcrv.net