Honda CR-V: Checking Seat Belt Fit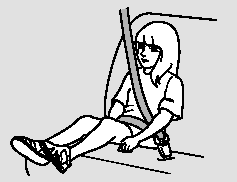 To determine if a lap/shoulder belt properly fits a child, have the child put on the seat belt, then ask yourself:
1. Does the child sit all the way back against the seat?
2. Do the child's knees bend comfortably over the edge of the seat?
3. Does the shoulder belt cross between the child's neck and arm?
4. Is the lap part of the belt as low as possible, touching the child's thighs?
5. Will the child be able to stay seated like this for the whole trip?
If you answer yes to all these questions, the child is ready to wear the lap/shoulder belt correctly. If you answer no to any question, the child needs to ride on a booster seat.
READ NEXT:
A child who has outgrown a forwardfacing child seat should ride in a back seat and use a booster seat until the lap/shoulder belt fits them properly without the booster. Some states, Cana
The National Highway Traffic Safety Administration and Transport Canada recommend that all children aged 12 and under be properly restrained in a back seat. If the passenger's front airbag
Do not let a child wear a seat belt across the neck. This could result in serious neck injuries during a crash. Do not let a child put the shoulder part of a seat belt behind the back or un
SEE MORE:
You can use the preset buttons while a disc is playing to select passages and change tracks (files inMP3 or WMA mode). Each preset button's function is shown on the bottom of the screen. You can also select an icon with the joystick.Move it to left, right, up, or down to change
Component Location Index TURN SIGNAL SWITCH (Built into the combination light switch) TURN SIGNAL INDICATORS HAZARD WARNING SWITCH MICU (Built into the under-dash fuse/relay box) Circuit Diagram MICU Input Test NOTE: Before testing, troubleshoot the B-CAN System Diagnosis Test Mode A. 1.
© 2016-2023 Copyright www.hcrv.net