Honda CR-V: System Description
The air conditioning system removes heat from the passenger compartment by transferring heat from the ambient air to the evaporator. The evaporator cools the air with the refrigerant that is circulating through the evaporator. The refrigerant expands in the evaporator, and the evaporator becomes very cold and absorbs the heat from the ambient air. The blower fan pushes air across the evaporator where the heat is absorbed, and then it blows the cool air into the passenger compartment.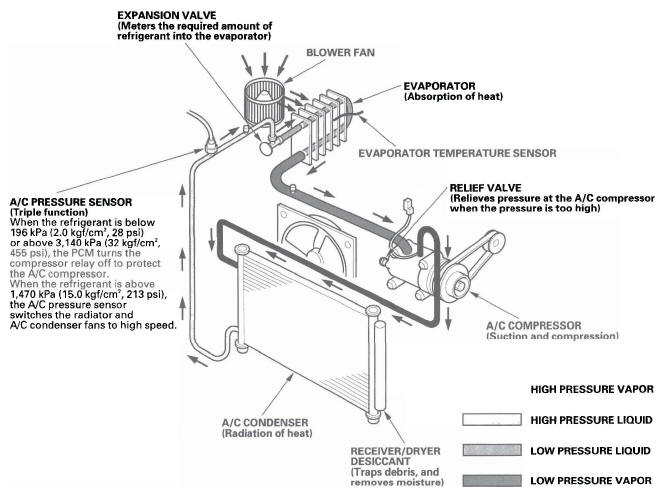 This vehicle uses HFC-134a (R-134a) refrigerant, which does not contain chlorofluorocarbons. Pay attention to the following service items:
Do not mix refrigerants CFC-12 (R-12) and HFC-134a (R-134a). They are not compatible.
Use only the recommended polyalkyleneglycol (PAG) refrigerant oil (SP-10) designed for the R-134a A/C compressor. Intermixing the recommended (PAG) refrigerant oil with any other refrigerant oil will result in A/C compressor failure.
All A/C system parts (A/C compressor, discharge line, suction line, evaporator, A/C condenser, receiver/dryer, expansion valve, O-rings for joints) are designed for refrigerant R-134a. Do not exchange with R-12 parts.
Use a halogen gas leak detector designed for refrigerant R-134a.
R-12 and R-134a refrigerant servicing equipment are not interchangeable. Use only a recovery/recycling/charging station that is U.L.-listed and is certified to meet the requirements of SAE J2210 to service the R-134a air conditioning systems.
Always recover refrigerant R-134a with an approved recovery/recycling/charging station before disconnecting any A/C fitting.
Oil Separator
Oil emission from the A/C compressor to the A/C line is reduced by placing the oil separator in the A/C compressor.
This results in a thinner oil film inside of the heat exchangers (A/C condenser and evaporator). Air conditioning efficiency is increased without sacrificing engine performance.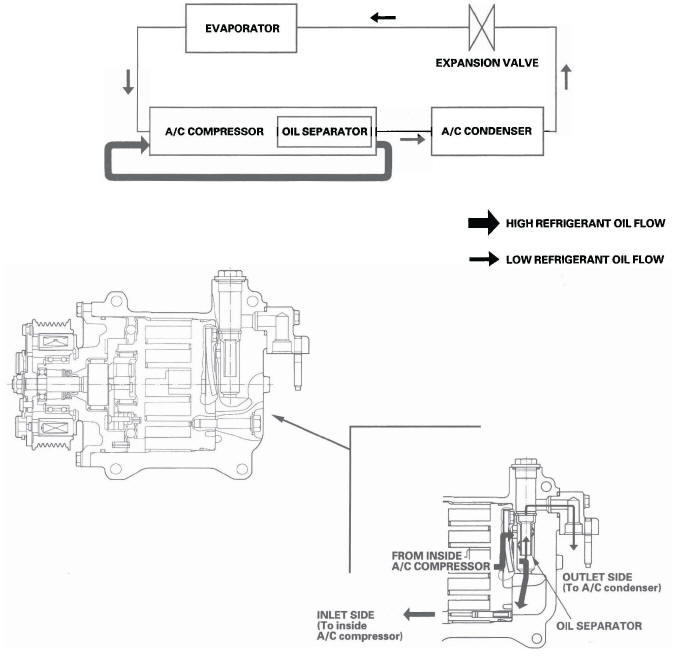 A/C Pressure Sensor
The A/C pressure sensor converts A/C pressure into electrical signals to the PCM.
NOTE: The pressures can be monitored using the HDS PGM-FI Data List.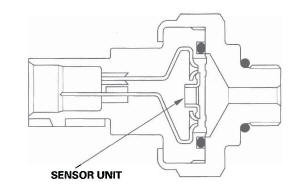 The response of the A/C pressure sensor is shown in the graph.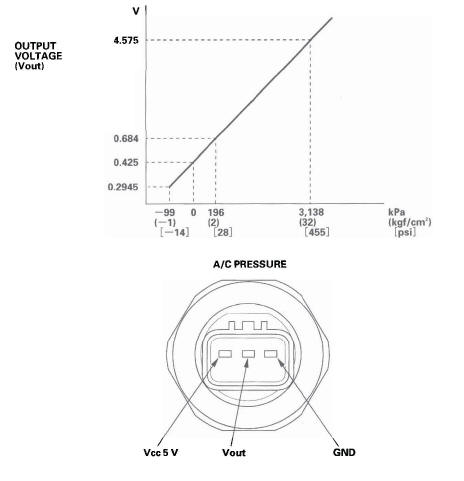 Heating/Air Conditioning Door Positions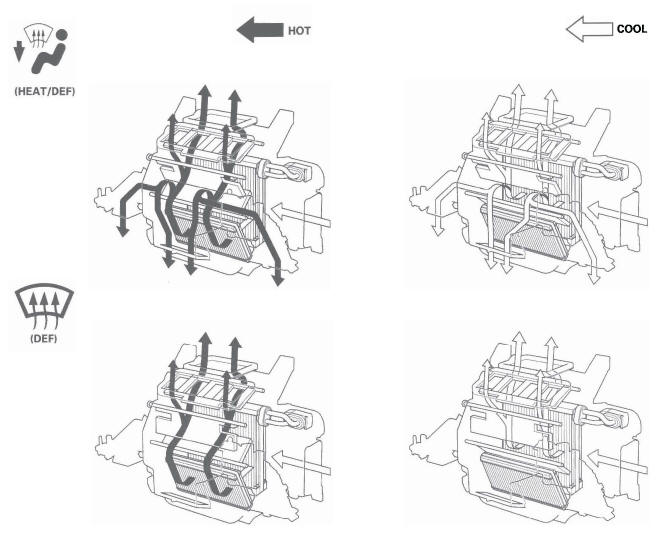 HVAC Control Unit Inputs and Outputs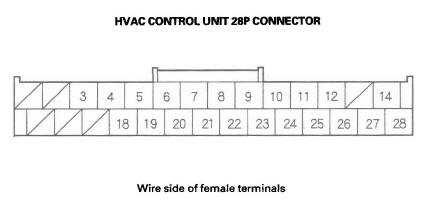 CONNECTOR A
Circuit Diagram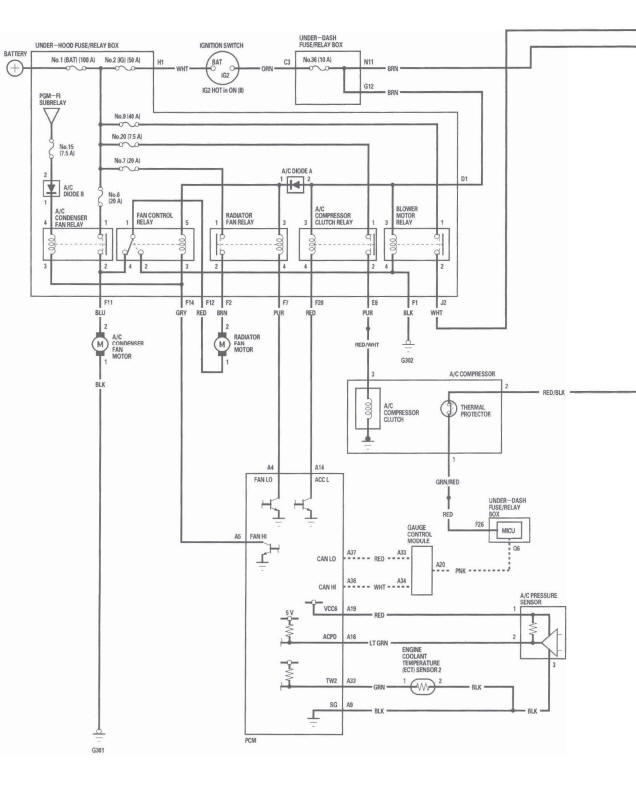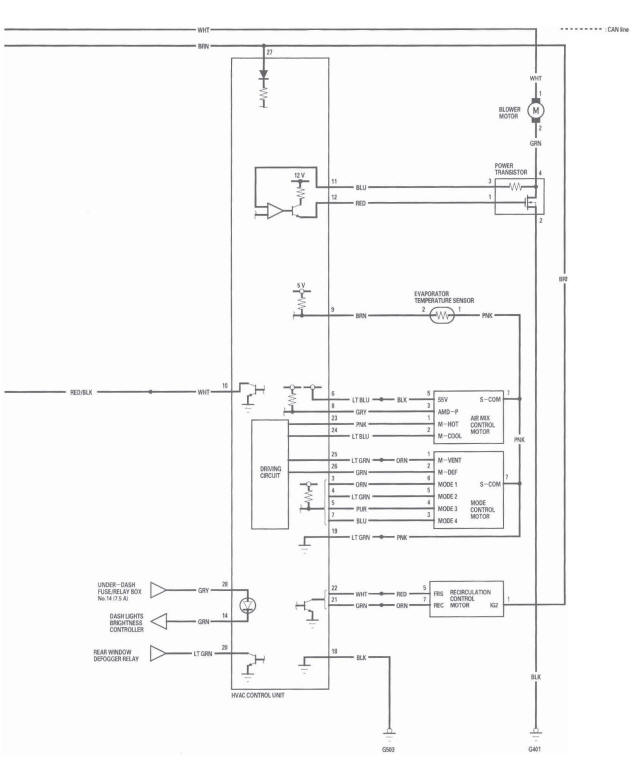 READ NEXT:
DTC indicator 1: An Open in the Air Mix Control Motor Circuit 1. Start the engine. 2. Turn on the A/C, then set the temperature control dial to Max Hot. 3. Turn the ignition switch OFF and then ON (
1. Check the No. 36 (10 A) fuse in the under-dash fuse/ relay box. Is the fuse OK? YES-Go to step 2. NO-Replace the fuse, and recheck. If the fuse blows again, check for a short in the No. 36 (10 A
NOTE: Do not use this troubleshooting procedure if the A/C compressor is inoperative. Refer to the symptom troubleshooting index. Before doing symptom troubleshooting, check for powertrain DTCs.
SEE MORE:
If a malfunction occurs and the shift lever cannot be moved out of the PARK position, you can use one of the following procedures to temporarily move the shift lever: Column Shifter - If Equipped 1. Turn the engine off. 2. Firmly apply the parking brake. 3. Tilt the steering wheel to the full up p
CAUTION! Damage to the transmission may occur if the following precautions are not observed: Shift into PARK only after the vehicle has come to a complete stop. Shift into or out of REVERSE only after the vehicle has come to a complete stop and the engine is at idle speed. Do not shift betwee
© 2016-2023 Copyright www.hcrv.net