Honda CR-V: Rear Seat Adjustments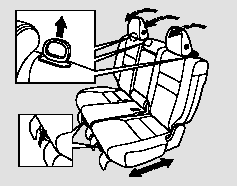 To adjust the seats forward and backward, pull up on the lever under the seat cushion. After moving the seat, make sure it is locked into position.
The angle of each rear seat-back can be adjusted separately. To change the seat-back angle of the rear seatback, pull up on the release lever on the top of the seat-back.Move the seat-back to the desired position, then release the lever. Make sure the seat-back latches in the new position.
When using the center seating position, adjust the left and right side of the rear seats to the same position.
Make sure all rear shoulder belts are positioned in front of the rear seatbacks after you adjust the rear seats.
READ NEXT:
Each front seat has an armrest on the side of the seat-back. To use it, pivot it down. The rear seat armrest is in the center of the rear seat. Pivot it down to use it.
The rear center seat-back has a cargo area pass-through. To use the cargo area pass-through, pull up the release on top of the center seatback and fold it down. If your vehicle is equippe
See page for important safety information and a warning about improperly positioning head restraints. Your vehicle is equipped with head restraints in all seating positions to help protect yo
SEE MORE:
The transfer case provides four mode positions. Two-wheel drive high range (2H) Four-wheel drive high range (4H) Neutral (N) Four-wheel drive low range (4L) This transfer case is intended to be driven in the 2H position for normal street and highway conditions such as dry, hard surfaced roads.
When stuck in mud, sand, snow, or ice conditions, do not spin your vehicle's wheels above 30 mph (48 km/h) or for longer than 30 seconds continuously without stopping. Refer to "Freeing A Stuck Vehicle" in "What To Do In Emergencies" for further information. WARNING! Fast spinning tires can be dang
© 2016-2023 Copyright www.hcrv.net