Honda CR-V: Protecting Discs
When a disc is not being played, store it in its case to protect it from dust and other contamination. To prevent warpage, keep discs out of direct sunlight and extreme heat.
To clean a disc, use a clean soft cloth.
Wipe across the disc from the center to the outside edge.
A new disc may be rough on the inner and outer edges. The small plastic pieces causing this roughness can flake off and fall on the recording surface of the disc, causing skipping or other problems.
Remove these pieces by rubbing the inner and outer edges with the side of a pencil or pen.
Never try to insert foreign objects in the system or the magazine.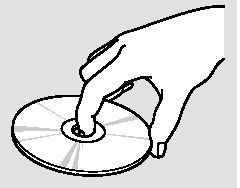 Handle a disc by its edges; never touch either surface. Do not place stabilizer rings or labels on the disc.
These, along with contamination from fingerprints, liquids, and felt-tip pens, can cause the disc to not play properly, or possibly jam in the drive.
READ NEXT:
The disc player/changer has a sophisticated and delicate mechanism. If you insert a damaged disc as indicated in this section, it may become stuck inside and damage the audio unit. Examples
If equipped Three controls for the audio system are mounted in the steering wheel hub. These let you control basic functions without removing your hand from the wheel. The VOL button adjus
Your vehicle has the auxiliary input jack on the front panel, on the center table, or in the console compartment, depending on models. The system will accept auxiliary input from standard
SEE MORE:
Component Location Index CAMSHAFT POSITION (CMP) SENSOR B (EXHAUST) OUTPUT SHAFT (COUNTERSHAFT) SPEED SENSOR POWERTRAIN CONTROL MODULE (PCM) ELECTRICAL LOAD DETECTOR (ELD) (bottom of fuse/relay box) A/F SENSOR (LAF) RELAY (RELAY SOCKET E) IGNITION CO
Extreme care should be taken crossing any type of water. Water crossings should be avoided if possible and only be attempted when necessary, in a safe responsible manner. You should only drive through areas which are designated and approved. You should tread lightly and avoid damage to the environm
© 2016-2023 Copyright www.hcrv.net