Honda CR-V: To Play an iPod
This audio system can play the audio files on the iPod with the same controls used for the in-dash disc changer. To play an iPod, connect it to the USB adapter cable in the upper glove box by using your dock connector, then press the CD/AUX or AUX button. The ignition switch must be in the ACCESSORY (I) or ON (II) position. The iPod will also be recharged with the ignition switch in these positions.
The system will only play songs stored on the iPod with iTunes.
iPod and iTunes are registered trademarks owned by Apple Inc.
iPods compatible with your audio system using the USB adapter cable are: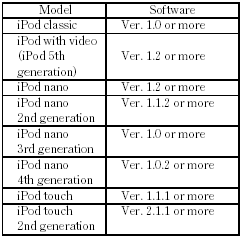 Use only compatible iPods with the latest software. iPods that are not compatible will not work in this audio unit.
NOTE:
Do not connect your iPod using a hub.
Do not keep the iPod in the vehicle. Direct sunlight and high heat will damage it.
Do not use an extension cable between the USB adapter cable equipped with your vehicle and your dock connector.
Some devices cannot be powered or charged via the USB adapter. If this is the case, use the accessory adapter to supply power to your device.
We recommend backing up your data before playing it.
READ NEXT:
1. Open the upper glove box. 2. Push the release button to release the USB adapter cable. 3. Connect your dock connector to the iPod correctly and securely. 4. Install the dock connecto
Each time you press the TITLE button the display mode switches between the album name, the song name, the artist name, or name off (which turns off the text display). The display shows up to
Use the SKIP button while an iPod is playing to change files. SKIP - Each time you press the (SKIP +) button, the system skips forward to the beginning of the next file. Press the (SKIP -)
SEE MORE:
Component Location Index With moon roof INDIVIDUAL MAP LIGHTS INTERIOR LIGHT SWITCH (Built into the moonroof switch) AMBIENT LIGHT (Built into the moonroof switch) CEILING LIGHT CARGO AREA LIGHT RIGHT REAR DOOR SWITCH TAILGATE LATCH SWITCH LEFT REAR DOOR SWITCH FRONT PASSENGER'S DOOR S
To aid in your exit, your vehicle is equipped with a headlight delay that will leave the headlights on for approximately up to 90 seconds. This delay is initiated when the ignition is turned OFF while the headlight switch is on, and then the headlight switch is cycled off. Headlight delay can be ca
© 2016-2023 Copyright www.hcrv.net