Honda CR-V: PCV System
Component Location Index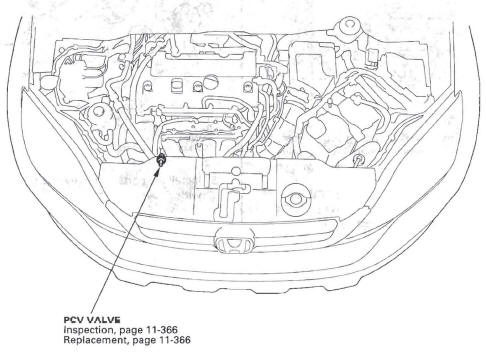 PCV Valve Inspection
1. Check the PCV valve (A), hoses (B), and connections for leaks or restrictions.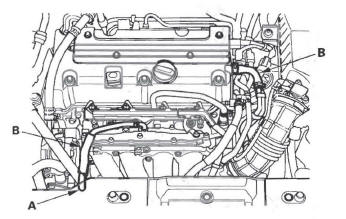 2. At idle, make sure there is a clicking sound from the PCV valve when the hose between the PCV valve and intake manifold is lightly pinched (A) with your fingers or pliers.
If there is no clicking sound, check the PCV valve washer for cracks or damage. If the washer is OK, replace the PCV valve and recheck.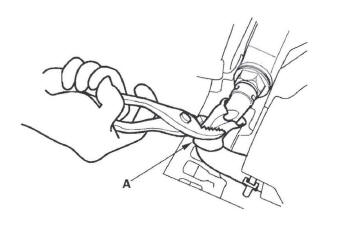 PCV Valve Replacement
1. Disconnect the PCV hose.
2. Remove the PCV valve (A).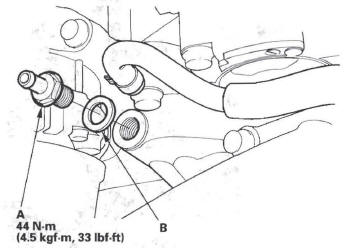 3. Install the parts in the reverse order of removal with a new washer (B).
READ NEXT:
Component Location Index EVAPORATIVE EMISSION (EVAP) CANISTER PURGE VALVE Replacement POWERTRAIN CONTROL MODULE (PCM) General Troubleshooting Information Replacement
Special Tools Required Vacuum pump/gauge, 0-30 in.Hg, Snap-on YA4000A or equivalent, commercially available. NOTE: Before you troubleshoot, record all freeze data and any on-board snapshot, and revie
SEE MORE:
Component Location Index VSA MODULATOR-CONTROL UNIT Removal and Installation UNDER-HOOD FUSE/RELAY BOX DATA LINK CONNECTOR (DLC) STEERING ANGLE SENSOR Replacement VSA OFF SWITCH Test RIGHT-REAR WHEEL SENSOR Replacement HUB BEARING UNIT (MAGNETIC ENCODER) Replace
Hard-Keys The hard-keys are located below the radio touchscreen. Climate Controls - Hard-Keys Soft-Keys Soft-keys are accessible on the radio touchscreen. Temperature Controls - Soft-Keys Button Descriptions (Applies To Both Hard-Keys And Soft-Keys) 1. MAX A/C Button Press and release to toggle be
© 2016-2023 Copyright www.hcrv.net