Honda CR-V: How the Side Airbag Off Indicator Works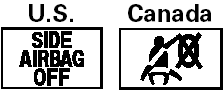 This indicator alerts you that the passenger's side airbag has been automatically shut off. It does mean there is a problem with your side airbags.
not
When you turn the ignition switch to the ON (II) position, the indicator should come on briefly and then go off. If it doesn't come on, stays on, or comes on while driving without a passenger in the front seat, have the system checked.
READ NEXT:
This indicator alerts you that the passenger's front airbag has been shut off because weight sensors detect about 65 lbs (29 kg) or less (the weight of an infant or small child) on the
Your airbag systems are virtually maintenance free, and there are no parts you can safely service. However, you must have your vehicle serviced if: An airbag ever inflates. Any airbag that h
Do not attempt to deactivate your airbags. Together, airbags and seat belts provide the best protection. Do not tamper with airbag components or wiring for any reason. Tampering could cause
SEE MORE:
To play the radio when a PC card is playing, press the AM/FM button or touch the FM1, FM2, AM, XM1, or XM2 icon. If a disc is in the audio unit, press the CD/XM button or touch the CD icon to play the disc. If a CD or CDs are in the CD changer, touch the CDC icon to play the disc(s).
Press the SOUND (TUNE) knob repeatedly to display the BASS, TREBLE, FADER, BALANCE, and SVC (speed-sensitive volume compensation) settings. BASS - Adjusts the bass. TREBLE - Adjusts the treble. FADER - Adjusts the front-to-back strength of the sound. BALANCE - Adjusts the side-toside s
© 2016-2022 Copyright www.hcrv.net