Honda CR-V: How the Passenger Airbag Off Indicator Works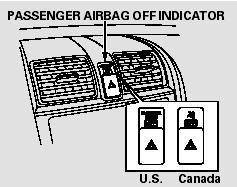 This indicator alerts you that the passenger's front airbag has been shut off because weight sensors detect about 65 lbs (29 kg) or less (the weight of an infant or small child) on the front passenger's seat.
It does not mean there is a problem with the airbag.
Be aware that objects placed on the front seat can cause the indicator to come on.
If no weight is detected on the front seat, the airbag will be automatically shut off. However, the indicator will not come on.
The passenger airbag off indicator may come on and off repeatedly if the total weight on the seat is near the airbag cutoff threshold.
If an adult or teenage passenger is riding in front, move the seat as far to the rear as possible, and have the passenger sit upright and wear the seat belt properly.
If the indicator comes on with no front seat passenger and no objects on the seat, or with an adult riding there, something may be interfering with the weight sensors. Look for and remove:
Any items under the front passenger's seat.
Any object(s) hanging on the seat or in the seat-back pocket.
Any object(s), such as a foldeddown back seat, that are touching the rear of the seat-back.
If no obstructions are found, have your vehicle checked by a dealer as soon as possible.
READ NEXT:
Your airbag systems are virtually maintenance free, and there are no parts you can safely service. However, you must have your vehicle serviced if: An airbag ever inflates. Any airbag that h
Do not attempt to deactivate your airbags. Together, airbags and seat belts provide the best protection. Do not tamper with airbag components or wiring for any reason. Tampering could cause
Children depend on adults to protect them. However, despite their best intentions, many adults do not know how to properly protect child passengers. If you have children, or ever need to
SEE MORE:
You can also select a file directly from a track list on the audio display. Press the AUDIO button to show the audio display, then touch the Track List icon. The track list menu appears on the display. To scroll through the display, touch the or icon on the side of the scr
NOTE: Do not rotate the camshaft during inspection. 1. Remove the rocker arm assembly. 2. Put the rocker shaft holders, camshaft, and camshaft holders on the cylinder head, then tighten the bolts, in sequence, to the specified torque. NOTE: If the engine does not have bolt 21, skip it and continu
© 2016-2023 Copyright www.hcrv.net