Honda CR-V: Protecting Children General Guidelines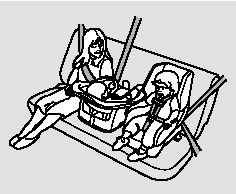 Children depend on adults to protect them. However, despite their best intentions, many adults do not know how to properly protect child passengers.
If you have children, or ever need to drive with a child in your vehicle, be sure to read this section. It begins with important general guidelines, then presents special information for infants, small children, and larger children.
READ NEXT:
Each year, many children are injured or killed in vehicle crashes because they are either unrestrained or not properly restrained. In fact, vehicle accidents are the number one cause of the
According to statistics, children of all ages and sizes are safer when they are restrained in a back seat. The National Highway Traffic Safety Administration and Transport Canada recommend th
Front airbags have been designed to help protect adults in a moderate to severe frontal collision. To do this, the passenger's front airbag is quite large, and it can inflate with enough f
SEE MORE:
The vehicle stability assist (VSA) system helps to stabilize the vehicle during cornering if the vehicle turns more or less than desired. It also assists you in maintaining traction while accelerating on loose or slippery road surfaces. It does this by regulating the engine's output
Low Oil Pressure Indicator This indicator should never come on when the engine is running. If it starts flashing or stays on, the oil pressure has dropped very low or lost pressure. Serious engine damage is possible, and you should take immediate action. Running the engine with l
© 2016-2023 Copyright www.hcrv.net