Honda CR-V: Compass Operation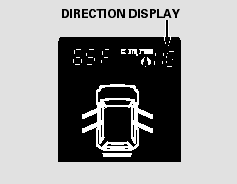 Next to the outside temperature indicator of the information display, a compass indicates which direction your vehicle is pointed. It indicates eight directions.
N: North
S: South
E: East
W: West
NE: Northeast
NW: Northwest
SE: Southeast
SW: Southwest
For example, when your vehicle is traveling in the north-east direction, the compass shows ''NE'' in the display.
Compass operation can be affected by driving near power lines or stations, across bridges, through tunnels, over railroad crossings, past large vehicles, or driving near large objects that can cause a magnetic disturbance. It can also be affected by accessories such as antennas and roof racks that are mounted by magnets.
READ NEXT:
If you see ''- -'' in the direction display when you turn the ignition switch to the ON (II) position, the compass is self-calibrating. The compass may need to be manually calibrate
In most areas, there is a variation between magnetic north and true north. Zone selection is required so the compass can compensate for this variation. To check and select the zone, do this:
If equipped The security system helps to protect your vehicle and valuables from theft. The horn sounds and a combination of headlights, parking lights, side marker lights and taillights flash
SEE MORE:
LX and U.S. EX models See pages for important safety information and warnings about how to properly position the seats and seatbacks. Make all seat adjustments before you start driving. To adjust the seat forward or backward, pull up on the bar under the seat cushion's front edge.
1. Remove the crankshaft and pistons. 2. Check the piston for distortion or cracks. 3. Measure the piston diameter at a point 13 mm (0.5 in.) from the bottom of the skirt. There are two standard-size pistons (No Letter or A, and B). The letter is stamped on the top of the piston. Letters are also
© 2016-2021 Copyright www.hcrv.net