Honda CR-V: Compass Calibration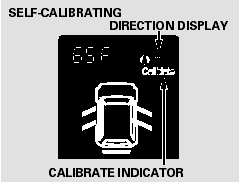 If you see ''- -'' in the direction display when you turn the ignition switch to the ON (II) position, the compass is self-calibrating.
The compass may need to be manually calibrated after exposure to a strong magnetic field. If the compass display changes to ''- -'' and the calibrate indicator blinks, or the display does not show any direction and the compass is not selfcalibrating, do the following.
1. Drive the vehicle slowly in three complete circles.
NOTE: Do this procedure in an open area, away from buildings, power lines, and other vehicles.
2. When the display goes from ''- -'' or blank to an actual heading, the unit is calibrated and the display returns to normal.
READ NEXT:
In most areas, there is a variation between magnetic north and true north. Zone selection is required so the compass can compensate for this variation. To check and select the zone, do this:
If equipped The security system helps to protect your vehicle and valuables from theft. The horn sounds and a combination of headlights, parking lights, side marker lights and taillights flash
On EX-L model with navigation system Whenever you shift to reverse (R) with the ignition switch in the ON (II) position, the rearview is shown on the navigation system screen. For the best p
SEE MORE:
You still need to exercise the same care when accelerating, steering, and braking that you would in a twowheel drive vehicle. 1. Make sure all windows, mirrors, and outside lights are clean and unobstructed. Remove frost, snow, or ice. 2. Check that the hood is fully closed. 3. Visual
NOTE: Put on gloves to protect your hands. Wear eye protection when removing the glass with piano wire. Use seat covers to avoid damaging any surfaces. Do not damage the rear window defogger grid lines and terminals. 1. Remove these items: Tailgate lower trim panel High mount brake light
© 2016-2023 Copyright www.hcrv.net