Honda CR-V: Protecting Small Children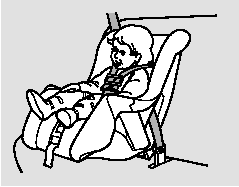 Child Seat Type
Many states, Canadian provinces and territories allow a child one year of age or older who also meets the minimum size and weight requirements to transition from a rear-facing child seat to a forward facing seat. Know the requirements where you are driving and follow the child seat instructions. Many experts recommend use of a rear-facing seat up to age two, if the child's height and weight are appropriate for a rear-facing seat.
Of the different seats available, we recommend those that have a fivepoint harness system as shown.
We also recommend that a small child use the child seat until the child reaches the weight or height limit for the seat.
Child Seat Placement
We strongly recommend placing a forward-facing child seat in a back seat, not the front.
Placing a forward-facing child seat in the front seat of a vehicle equipped with a passenger's airbag can be hazardous. If the vehicle seat is too far forward, or the child's head is thrown forward during a collision, an inflating airbag can strike the child with enough force to cause very serious or fatal injuries.
Even with advanced front airbags that automatically turn the passenger's front airbag off, a back seat is the safest place for a small child.
If it is necessary to put a forwardfacing child seat in the front, move the vehicle seat as far to the rear as possible, and be sure the child seat is firmly secured to the vehicle and the child is properly strapped in the seat.

Placing a forward-facing child seat in the front seat can result in serious injury or death if the front airbag inflates.
If you must place a forwardfacing child seat in front, move the vehicle seat as far back as possible, and properly restrain the child.
READ NEXT:
When buying a child seat, you need to choose either a conventional child seat, or one designed for use with the Lower Anchors and Tethers for CHildren (LATCH) system. Conventional child seats
After selecting a proper child seat and a good place to install the seat, there are three main steps in installing the seat: 1. Properly secure the child seat to the vehicle. All child seats
Your vehicle is equipped with LATCH (Lower Anchors and Tethers for CHildren) at the rear seats to secure a child seat in any seating position: one in each outer seating position, or one in t
SEE MORE:
NOTE: Check the radio reception in an open area. Compare it to a known-good vehicle of the same model, year, and trim level whenever possible. If necessary, have the customer demonstrate the symptom. Poor reception/interference can be caused by the following. The radio station is far away.
Replace your tires with radial tires of the same size, load range, speed rating, and maximum cold tire pressure rating (as shown on the tire's sidewall). Mixing radial and bias-ply tires on your vehicle can reduce braking ability, traction, and steering accuracy. Using tires of a di
© 2016-2023 Copyright www.hcrv.net