Honda CR-V: Compact Spare Tire
Use the compact spare tire as a temporary replacement only. Get your regular tire repaired or replaced, and put it back on your vehicle as soon as you can.
Check the air pressure of the compact spare tire every time you check the other tires. It should be inflated to:
60 psi (420 kPa , 4.2 kgf/cm2 )
Follow these precautions:
Never exceed 50 mph (80 km/h).
This tire gives a harsher ride and less traction on some road surfaces. Use greater caution while driving.
Do not mount snow chains on the compact spare tire.
Do not use your compact spare tire on another vehicle unless it is the same make andmodel.
The low tire pressure indicator comes on and stays on after you replace the flat tire with the compact spare tire. After several miles (kilometers) driving with the compact spare tire, the TPMS indicator comes on and the low tire pressure indicator goes off.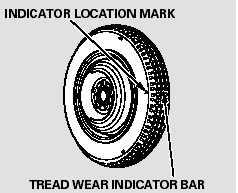 Replace the tire when you can see the tread wear indicator bars. The replacement should be the same size and design tire, mounted on the same wheel. The spare tire is not designed to be mounted on a regular wheel, and the spare wheel is not designed for mounting a regular tire.
READ NEXT:
If you have a flat tire while driving, stop in a safe place to change it. Drive slowly along the shoulder until you get to an exit or an area to stop that is far away from the traffic lanes.
Diagnosing why the engine won't start falls into two areas, depending on what you hear when you turn the ignition switch to the START (III) position: You hear nothing, or almost nothing.
When you turn the ignition switch to the START (III) position, you do not hear the normal noise of the engine trying to start. You may hear a clicking sound, a series of clicks, or nothing a
SEE MORE:
Adding Engine Coolant If the coolant level in the reserve tank is at or below the MIN line, add coolant to bring it up to the MAX line. Inspect the cooling system for leaks. Always use Honda Long-life Antifreeze/ Coolant Type 2. This coolant is pre-mixed with 50 percent antifreeze and
Front and rear doors may be locked by moving the lock knob down or unlocked by moving the lock knob up. Door Lock Knob Front doors may be opened with the inside door handle without lifting the lock knob. Doors locked before closing will remain locked when closed. The emergency key will unlock the
© 2016-2023 Copyright www.hcrv.net