Honda CR-V: CD, DVD, and PC Card Removal/Installation
If the display will not open, use this procedure to manually open the display and remove the CD, DVD, and/or the PC card.
1. Remove the navigation unit from the vehicle.
2. On the bench, carefully pull the display (A) straight out (about 1/2 inch).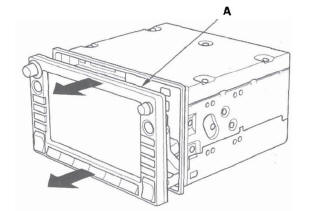 3. Fold down the display as shown in the diagram below.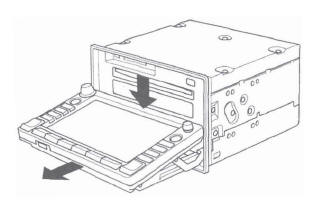 4. Push the PC card ,eject button (A) to eject the customer's PC card (if installed). Power is not required for this function.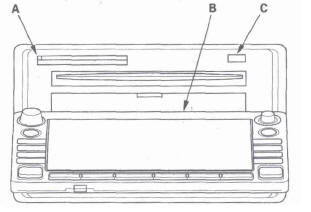 5. Open the plastic cover (B) for the navigation DVD slot. Do not remove the plastic cover.
6. With the display open, temporarily reconnect the unit in the dash (to power it up).
7. Push the CD "eject" button (C), and navigation DVD "eject" button and remove the discs (holding both discs by their edges to avoid fingerprints). To avoid scratches, place the navigation DVD, and customer's CD in a jewel case if available.
8. Close the plastic cover that covers the navigation DVD slot.
9. Close the display by first returning the display to the upward position, and then pushing the entire display straight back into the unit.
10. After installing the new navigation unit, re-insert the navigation DVD, the customer's CD, and PC card.
READ NEXT:
SRS components are located in this area. Review the SRS component location. Also review the precautions and procedures in the SRS section before doing repairs or service. NOTE: Put on gloves to pro
Component Location Index REAR CENTER SEAT BELT REAR CENTER SEAT BELT BUCKLE and LEFT REAR SEAT BELT BUCKLE REAR SEAT BELT FRONT SEAT BELT FRONT SEAT BELT BUCKLES RIGHT FRONT SEAT BELT LOWER A
SEE MORE:
Each time you press the TITLE button, the display shows you the text, if the disc was recorded with text data. You can see the album, artist, and track name in the display. If a disc is recorded in MP3 or WMA, you can see the folder and file name, and the artist, album, and track tag.
Fuel Fill Door Adjustment 1. Remove the nut (A), then remove the open spring (B). 2. Slightly loosen the hinge mounting bolts (A). 3. Adjust the fuel fill door (B) in or out until it's flush with the body, and up or down as necessary to equalize the gaps. 4. Tighten the hinge mounting bolts. 5. C
© 2016-2021 Copyright www.hcrv.net