Honda CR-V: Brake Fluid
Check the fluid level in the brake fluid reservoir monthly.
Replace the brake fluid according to the maintenance messages shown on the information display.
Always use Honda Heavy Duty Brake Fluid DOT 3. If it is not available, you should use only DOT 3 or DOT 4 fluid, from a sealed container, as a temporary replacement.
Using any non-Honda brake fluid can cause corrosion and decrease the life of the system. Have the brake system flushed and refilled with Honda Heavy Duty Brake Fluid DOT 3 as soon as possible.
Brake fluid marked DOT 5 is not compatible with your vehicle's braking system and can cause extensive damage.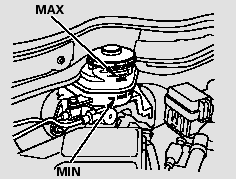 The fluid level should be between theMINandMAXmarks on the side of the reservoir. If the level is at or below the MIN mark, your brake system needs attention. Have the brake system inspected for leaks or worn brake pads.
READ NEXT:
Check the level on the side of the reservoir when the engine is cold. The fluid should be between the UPPER LEVEL and LOWER LEVEL. If not, add power steering fluid to the UPPER LEVEL. Pour
The headlights were properly aimed when your vehicle was new. If you regularly carry heavy items in the cargo area or pull a trailer, readjustment may be required. Adjustments should be done
SEE MORE:
Component Location Index GLASS DRAIN CHANNEL SUNSHADE CABLE ASSEMBLY CABLE TUBE REAR BRACKET MOTOR WIND DEFLECTOR REAR DRAIN TUBE REAR DRAIN VALVE FRAME CLIP FRONT DRAIN VALVE FRONT DRAIN TUBE Symptom Troubleshooting Index Glass Position Adjustment The roof panel (A) should be ev
Component Location Index GAUGE CONTROL MODULE MICU Circuit Diagram Control Unit Input Test NOTE: Before testing, troubleshoot the B-CAN System Diagnosis Test Mode A. MICU 1. Turn the ignition switch OFF. 2. Remove the left kick panel. 3. Disconnect the under-dash fuse/relay box connectors.
© 2016-2021 Copyright www.hcrv.net