Honda CR-V: Power Steering Fluid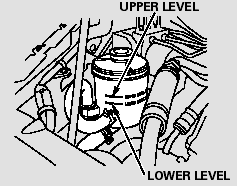 Check the level on the side of the reservoir when the engine is cold.
The fluid should be between the UPPER LEVEL and LOWER LEVEL.
If not, add power steering fluid to the UPPER LEVEL.
Pour the fluid slowly and carefully so you do not spill any. Clean up any spills immediately; it could damage components in the engine compartment.
Always use Honda Power Steering Fluid. You may use another power steering fluid as an emergency replacement, but have the power steering system flushed and refilled with Honda PSF as soon as possible.
A low power steering fluid level can indicate a leak in the system. Check the fluid level frequently, and have the system inspected as soon as possible.

Turning the steering wheel to f ull lef t or right lock and holding it there can damage the power steering pump.
READ NEXT:
The headlights were properly aimed when your vehicle was new. If you regularly carry heavy items in the cargo area or pull a trailer, readjustment may be required. Adjustments should be done
Your vehicle has halogen headlight bulbs. When replacing a bulb, handle it by its base, and protect the glass from contact with your skin or hard objects. If you touch the glass, clean it wi
SEE MORE:
You can also select a file directly from a track list on the audio display. Press the AUDIO button to show the audio display, then touch the Track List icon. The track list menu appears on the display. To scroll through the display, touch the or icon on the side of the screen.
1. Select . The system automatically switches to fresh air mode and turns on the A/C. The A/C indicator does not come on if it was off to start with. 2. Select . 3. Set the fan and temperature controls to maximum level. To clear the windows faster, you can close the dashboard corner
© 2016-2022 Copyright www.hcrv.net