Honda CR-V: Using HFL
HFL Buttons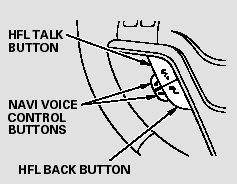 HFL Talk button - Press and release to give a command or answer a call.
HFL Back button - Press and release to end a call, go back to the previous command, or cancel the command.
READ NEXT:
Air or wind noise fromthe dashboard and side vents and all windows may interfere with the microphone. Adjust or close them as necessary. Press and release the HFL Talk button each time yo
To hear general HFL information, including help on using HFL buttons, Voice control, or making a call, say ''Tutorial.'' For help at any time, including a list of available commands,
As an incoming call notification, you will see the following display: A notification that there is an incoming call, or HFL is in use, will appear on the navigation screen when the audio sy
SEE MORE:
To eliminate potential hazards, read the instructions before you begin, and make sure you have the tools and skills required. Make sure your vehicle is parked on level ground, the parking brake is set, and the engine is off. To clean parts, use a commercially available degreaser or par
1. Disconnect audio disc changer 13P connector. 2. Turn the ignition switch to ACC (I). 3. Operate the XM radio, and check the display. Is XM information displayed? YES-Replace the audio disc changer. NO-Go to step 4. 4. Check the No. 34 (7.5 A) fuse in the under-dash fuse/relay box and the No.
© 2016-2021 Copyright www.hcrv.net