Honda CR-V: Using HFL
HFL Buttons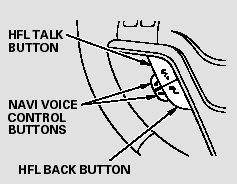 HFL Talk button - Press and release to give a command or answer a call.
HFL Back button - Press and release to end a call, go back to the previous command, or cancel the command.
READ NEXT:
Air or wind noise fromthe dashboard and side vents and all windows may interfere with the microphone. Adjust or close them as necessary. Press and release the HFL Talk button each time yo
To hear general HFL information, including help on using HFL buttons, Voice control, or making a call, say ''Tutorial.'' For help at any time, including a list of available commands,
As an incoming call notification, you will see the following display: A notification that there is an incoming call, or HFL is in use, will appear on the navigation screen when the audio sy
SEE MORE:
Engine Compartment VSA MODULATOR-CONTROL UNIT AUXILIARY UNDER-HOOD RELAY BOX POWER MIRROR DEFOGGER RELAY PCM RADIATOR FAN RELAY ELECTRONIC THROTTLE CONTROL SYSTEM (ETCS) CONTROL RELAY ELD UNIT PGM-FI MAIN RELAY 1 (FI MAIN) UNDER-HOOD FUSE/RELAY BOX FAN CONTROL RELAY BLOWER MOTOR RELAY
Power Door Locks/Keyless 1. Check for B-CAN DTCs. If any B-CAN DTCs are indicated, troubleshoot and resolve them first. 2. If the door lock system and the keyless operation. does not work, troubleshoot the door locks first. NOTE: The system does not function when the ignition switch is ON (II).
© 2016-2021 Copyright www.hcrv.net