Honda CR-V: Upper Glove Box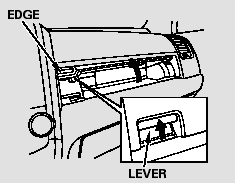 Open the upper glove box by pushing up the lever. Close it by pulling down on the edge under the lever.
READ NEXT:
To use the vanity mirror on the back of the sun visor, pull up the cover. Except LX model The vanity mirror lights come on when you pull up the cover.
To use the sun visor, pull it down. When using the sun visor for the side window, remove the support rod from the clip, and swing it out. Make sure you put the sun visor back in place when
To open the sunglasses holder, push then release the raised detent. It will unlatch and swing down. To close it, push it until it latches. Make sure the holder is closed while you are driv
SEE MORE:
The limited-slip differential provides additional traction on snow, ice, mud, sand and gravel, particularly when there is a difference between the traction characteristics of the surface under the right and left rear wheels. During normal driving and cornering, the limited-slip unit performs similar
The following accessories are necessary to attach the winch to anchors, change direction of pull, and for safe winching. Gloves: Wire rope, through use, will develop barbs which can slice skin. It is extremely important to wear protective gloves while operating the winch or handling the wire rope.
© 2016-2023 Copyright www.hcrv.net