Honda CR-V: To Select a File from iPod Menu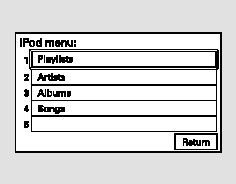 You can also select a file from any list on the iPod menu: playlists, artists, albums and songs. Press the AUDIO button to display the screen, then touch the iPodMENU icon.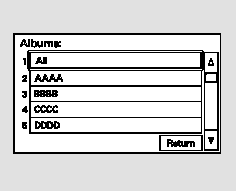 Select the desired mode by touching the appropriate icon, or move the joystick, then press ENT.
Press the AUDIObutton to go back to the normal audio playing display.
Pressing the CANCEL button goes back to the previous screen, and pressing the MAP button cancels the audio control display on the screen.
If you select ''ALL'' on either the artists or albums list, all available files on the selected list are played.
READ NEXT:
You can also select a file directly from a track list on the audio display. Press the AUDIO button to show the audio display, then touch the Track List icon. The track list menu appears on
To play the radio, press the AM/FM button or touch the FM1, FM2, AM, XM1, or XM2 icon. Touch the CD icon to switch to the disc mode (if a disc is loaded). Each time you press the CD/XM butto
You can disconnect the iPod at any time when you see ''OK to disconnect'' message* in the iPod display. Always make sure you see ''OK to disconnect'' message in the iPod disp
SEE MORE:
Component Location Index COOLANT SEPARATOR EXHAUST GAS RECIRCULATION (EGR) PASSAGE THERMOSTAT RADIATOR ENGINE COOLANT TEMPERATURE (ECT) SENSOR 2 RADIATOR FAN ASSEMBLY A/C CONDENSER FAN ASSEMBLY WATER PUMP WATER PASSAGE
The traction grades, from highest to lowest, are AA, A, B, and C. Those grades represent the tire's ability to stop on wet pavement as measured under controlled conditions on specified government test surfaces of asphalt and concrete. A tire marked C may have poor traction performa
© 2016-2023 Copyright www.hcrv.net